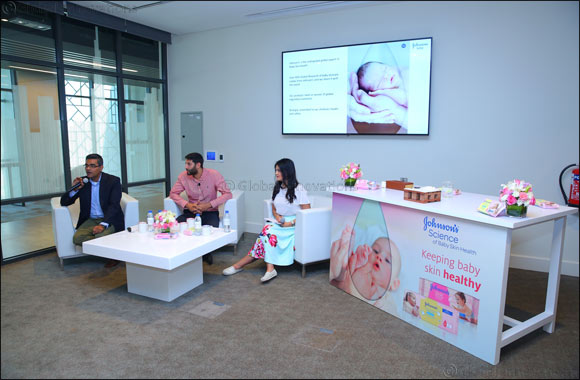 Johnson's Baby Wipes Masterclass highlights the delicacies of babies' skin, and the importance of product choice as a young mum
Dubai, UAE, 21 October, 2017: Johnson's Baby cleaned up the clutter for millennial mums by hosting an exclusive event that focused on the delicacies of babies' skin. The Baby Wipes Masterclass is a unique initiative that brought together mums from across the country to teach them about the intricacies and importance of understanding infant skin care.
With myriad skincare options on the shelves today, it's often difficult for new and young mums to make educated decisions for their babies. Moreover, baby wipes can appear similar in effectiveness, and this can result in the misconception that each wipe does the same job.
It was the dedication and care of Johnson's Baby that resulted in the masterclass, in order to educate influential mums and mums-to-be on the benefits of understanding your baby's skincare needs, and providing a solution to the lack of available information on baby wipes.
"Being a first time mum is daunting. You're overwhelmed with information, advice, and concerns. For Johnson's Baby, it's always been about offering valuable and accurate information, and providing products and services that bring families together and improve their lives," said Dr. Sabih Shaikh, Head of Professional, Africa, Middle East and Turkey, Johnson & Johnson.
"The Baby Wipes Masterclass was designed to do just that. We wanted to create an open forum where millennial mums could voice their concerns, and educate themselves on the importance of correct baby skincare," Dr. Shaikh added.
The goal of the Masterclass was to highlight not only the science behind J&J's baby wipes, but also shed light on burning issues being faced by young mums. For example, many mums often opt for cheaper, generic products, because they're unaware their babies require sensitive cleansing.
Babies' skin is up to 30 percent thinner than an adult's, lowering its barrier reserve. They can also lose water twice as fast as adults, making them more susceptible to infection. The Baby Wipe Masterclass included detailed sessions outlining the science behind Johnson's Baby Wipes, and how they help to mitigate risk and protect skin from a baby's first day.
Michael Sayar, Brand Manager AMET, Johnson's Baby & Desitin, UAE, said: "The Masterclass offered the perfect platform for us to engage and spend time with our valued community of mums, bloggers, and media partners. In an always-on world, there's so much information flying around that it can be overwhelming for parents. Our event was designed to bring peace of mind to mums, current and expecting, and help knowledge share so they can provide the best care for their babies' sensitive skin."
A select audience from the media, influencer, and blogger sphere was invited to attend the Johnson's Baby Wipes Masterclass at the Rove Hotel, Downtown Dubai, for the first in a series of regional roadshow, which Johnson's Baby plans to roll out across the wider region.