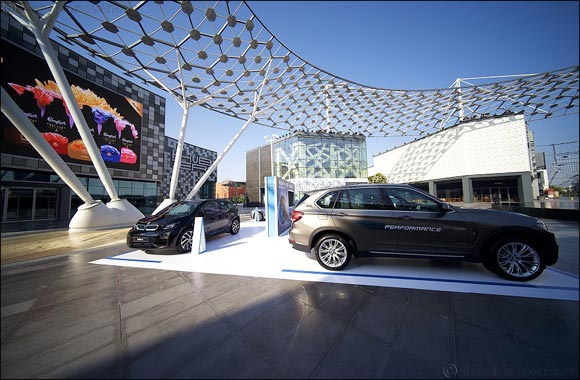 AGMC's new fleet of plug-in hybrid electric vehicles (PHEVs) includes the BMW 330e iPerformance, 530e iPerformance, 740Le iPerformance, and BMW X5 XDrive40e, which join the existing plug-in hybrid BMW i8
The new fleet is in showrooms now
The UAE is installing electric car-charging stations across the country, with more than 50 already available across Dubai
The fully-electric BMW i3 will be on show at events across Dubai over the coming months, and will join the fleet by 2018
Dubai, UAE, October 19, 2017: AGMC, the official BMW Group importer for Dubai, Sharjah and the Northern Emirates, has welcomed the eagerly-anticipated fleet of PHEV models in its showrooms.
With lower fuel consumption and Co2 emissions thanks to their high-performance electric motors, the new fleet of green, low-emission hybrid cars from AGMC is helping to carve a new path in the region's approach to sustainably-led transport.
BMW 330e iPerformance
The new plug-in hybrid model of BMW brand's most popular model range sets new standards for dynamism, efficiency and design. It marries BMW eDrive technology with a four-cylinder petrol unit from the BMW Group's newest engine generation. It extracts a total system output of 185 kW/252 hp from its duo of power units, and returns average fuel consumption (combined) of 1.9 litres/100 km, and CO2 emissions (combined) of 44 g/km.
BMW 530e iPerformance
Included in AGMC's new fleet is the hybrid variant of the BMW 5 Series, the world's most successful business sedan. The BMW 530e boasts exemplary environmental credentials confirmed by ISO certification, and is the most innovative model in its class. The plug-in hybrid boasts a fuel consumption of 1.9 l/100 km (148.7 mpg imp), which equates to CO2 emissions of just 44 g/km, and it offers the full wealth of BMW 5 Series driver assistance systems – in all modes, including eDrive. These systems are complemented by all of the available comfort-enhancing features and excellent long-distance driving credentials, including a boot that can hold ample luggage for trips away. As for its power source, trailblazing BMW eDrive technology teams up with a BMW TwinPower Turbo petrol engine to create an exceptionally economical and powerful plug-in hybrid drive system that fits perfectly with the dynamic, smooth and efficient character profile of the new BMW 5 Series.
BMW 740Le iPerformance
BMW 7 Series' first-ever PHEV offering, the BMW 740Le iPerformance is a model that sources its power from the myriad talents of a latest-generation four-cylinder petrol engine with BMW TwinPower Turbo Technology and an electric motor. The plug-in hybrid luxury sedan features the BMW eDrive system technology specifically developed for BMW i cars, and offers a smooth ride that's a pleasure to drive, particularly for long-distance comfort.
BMW i3 – Arrival date TBC
Looking ahead, the fully-electric BMW i3 is one of the most hotly anticipated vehicles. Its arrival date at AGMC is yet to be confirmed, but it will be available to view, along with a selection of the other recently arrived PHEV cars, at a series of events and road shows across Dubai, including: City Walk from October 18th – 21st; the World Green Economy Summit on the October 24th and 25th; the International Conference on Future Mobility on November 7th and 8th. The i3S will be on display during the Dubai Motor Show
BMW i8
The BMW i8 is the world's most desirable plug-in hybrid sports car and the first plug-in hybrid vehicle manufactured by the BMW Group. It combines the performance of a sports car with the fuel consumption and emission figures of a subcompact vehicle. The BMW i8 accelerates from 0 to 100Kph in 4.4s in the style of a purebred sports car, yet its average consumption is that of a subcompact car. Its 1.5-litre three-cylinder petrol engine, equipped with BMW TwinPower Turbo technology, is combined with an electric motor. The battery can be charged at a conventional power outlet, at a charging station, or simply while driving.