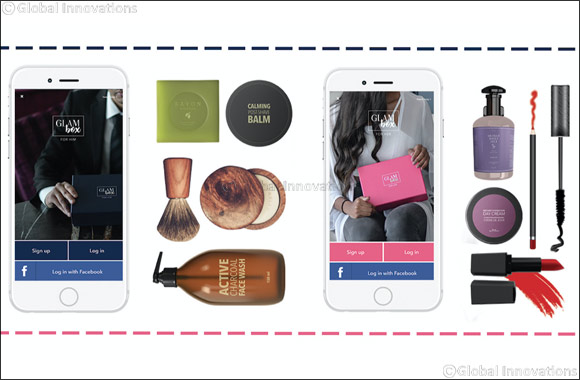 ** With 70% of site visitors accessing Glambox.me via their smartphone, leading beauty box has launched an app putting themselves exactly where their customers want them and their special offers – at their fingertips **
Dubai, UAE, October 19, 2017: The UAE leads the charts when it comes to internet access, with an impressive 99% of our citizens surfing the web, whilst mobile browsing currently accounts for half of the world's web traffic!
It is fair to say that this rise in mobile technologies has changed how we search for, and shop for the majority of products and services and in no sector is this more true than the beauty world. The use of smartphone apps to engage consumers, introduce products and enhance the whole discovery process has gained traction with many beauty brands, with significant growth in the beauty app usage in the past few years. Apps also play a highly useful role in helping beauty brands collect valuable data and insights on users' preferences and behaviour which is difficult for any business to ignore.
Glambox Middle East was established in January 2012 to help women (and now men!) discover the latest and greatest in make-up, skincare, hair care, fragrances and grooming. For a nominal fee, subscribers receive a gorgeous box with 4-5 beauty products each month, plus other special offers and discounts – delivered right to their doorsteps. It's a great way to keep up to date with seasonal trends and experience new products you normally wouldn't have the chance to try. Already a key online player in the Middle East, Glambox has always been at the forefront of digital innovation since its launch nearly 6 years ago.
With data showing them that 70% of visitors from the UAE connect to glambox.me from their mobile and 90% in KSA, and more than 50% of UAE customers buying subscriptions through their mobile and 95% in KSA, the decision to launch an app for its customers came very naturally.
"There's so much noise out there – banners, billboards, newspaper ads, flyers, coupons, website banners, Facebook ads, email marketing and more. We want to meet our customers in the environment of their choice, not where it's convenient for us! Our new mobile app is a way of staying closer to our already loyal customers, and offering beauty lovers exciting content that is relevant to them," says Matthieu Guinard , CEO of Glambox Middle East.
The Glambox Middle East App concept is as follows:
Easy login and instant access to subscriber's account
Exclusive offers and promotions on the monthly box subscriptions for app users
Monthly offers and discounts from a huge range of partners can be viewed and redeemed from the app – spa deals, beauty store discounts and other offers and incentives from relevant lifestyle brands
On the go easy gifting in just 3 steps!
Lifestyle and beauty blog to carry with you wherever you go, featuring the latest beauty trends and topics, tips and how to videos
Incentives and surprises to fill out surveys and profiles
English and Arabic language For Him and For Her available in UAE and For Her only in KSA.
"An effective mobile strategy involves more than just a mobile friendly website. Glambox aims to be ahead of the game when it comes to taking our marketing and offering to the next level," Guinard adds. We want to be visible to customers at all times and provide the greatest value to them".
Guinard continues, "One of the greatest benefits of having a mobile app is that all the information we want to provide to our customer, including special sales and promotions is right at their fingertips! Through push notifications you're getting even closer to a direct interaction, and we can easily remind customers about relevant products and services whenever it makes sense."
The Glambox Middle East App will launch in October and is available on Google Play and The App Store for download and is all set to deliver subscribers not only value and savings and the ability to make smarter purchasing decisions, but also a their daily (or hourly!) dose of beauty cheer!
Consumers can subscribe monthly to Glambox for Her and quarterly to Glambox For Him in the UAE and KSA by purchasing packages from as little as AED 90 per box.