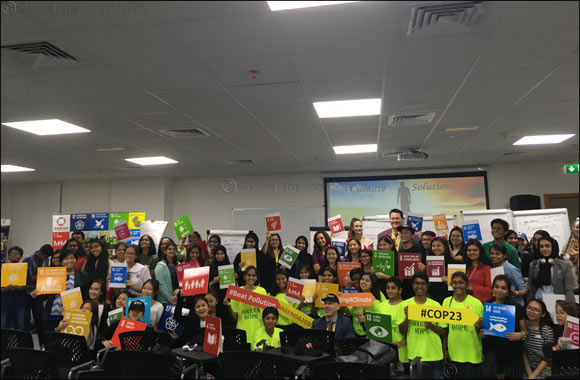 Dubai, UAE, October 18, 2017: Our planet is at the edge of a precipice and yet most of us remain blissfully unaware of this impending danger. Our energy hungry economies continue to add millions of tonnes of carbon dioxide to atmosphere with absolute disregard to the devastating impacts it is causing to our environment , pushing our planet's temperatures higher and higher and reaching a point in the near future where human life may be snuffed out forever.
Climate change is not a myth -- it is one of the harshest reality of our times and the current generation is the last one that has the opportunity to tackle it .
These are the messages that youth sustainability organisation , Green Hope Foundation , has been advocating amongst various sections of civil society , especially youth , through its conferences and workshops.
On 14th October , Green Hope held a Climate Change Conference at the Middlesex University of Dubai which was attended by over 100 students from schools and universities across the UAE . The UAE Ministry of Climate Change and Environment also sent a representative to this conference alongwith members of its youth council and highlighted the country's commitment to green energy and the importance of young people being engaged in the process of mitigation.
The highlight of the conference was a special address via video link by Nobel Peace laureate , Professor Mohammad Yunus who , in an inspiring message stressed the need for young people to lead the transition to a sustainable world by fighting global warming and climate change. He urged policy makers to pay heed to the voices of young people because they are the ones who would inherit this planet. We were truly honoured to receive his message.
At the conference , the students depicted the impacts of climate change through art . Thereafter , each school/university put up performances to highlight how climate change affects our lives. The participating youth then debated the solutions which they , as young people could adopt locally to mitigate climate change. These solutions were complied in the form of an outcome document which Green Hope intends to present at the upcoming Conference of Youth in Bonn prior to COP23.