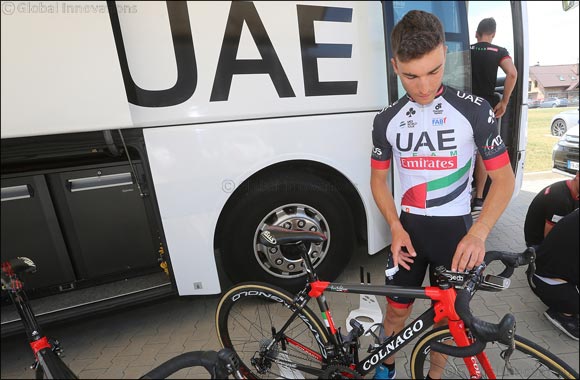 Dubai, UAE, October 18, 2017: UAE Team Emirates will finish their opening UCI World Tour cycling season in China this week, where they will participate in the Tour of Guangxi from Thursday 19 – Tuesday 24 October.
The six-stage race, taking place in the southern region of China bordering Vietnam, will feature seven UAE Team Emirates' riders including; Matteo Bono (Italy), Valerio Conti (Italy), Kristijan Durasek (Croatia), Andrea Guardini (Italy), Matej Mohoric (Slovenia), Oliviero Troia (Italy) and Federico Zurlo (Italy). The team will be supported by Sports Directors Simone Pedrazzini and Bruno Vicino.
The opening three stages of the season finale will likely favour the sprinters, whilst climbers could look to make up any lost time on stages four and five – both featuring category one climbs. The race will take riders through five cities, starting in Beihai before visiting Qinzhou, Nanning, Liuzhou and ending in Guilin, with riders covering a total distance of 920.8km.
Commenting on the team's objectives for the final race of the season, Sports Director Simone Pedrazzini explained: "Conti will have to be ready on the only summit finish [stage four], which will probably also decide the General Classification. Matej Mohoric can take advantage of his top form to try and make the best of the last two hilly routes. Guardini and Troia will be tasked with challenging the faster riders."
Commenting on the upcoming race, UAE Team Emirates' Valerio Conti: "It's always interesting to race in countries that are facing a new frontier in cycling. The Tour of Guangxi is a World Tour event, meaning that the participants will all be top class. Hats off to the organizers, who have put together such an important race. If we want good results, we will have to totally commit and use all the energy we have left. Considering that fatigue often sets in at the end of the season after a long year, concentration still needs to be higher than usual."
Matej Mohoric, who tasted victory in the recent Hong Kong Cyclothon said: "My legs were great for the last couple of weeks. I hope they will keep going 'till Tour of Guangxi because we are bringing a strong team. We will define our goals there and take the race day by day, always going for what we think is best for the team."