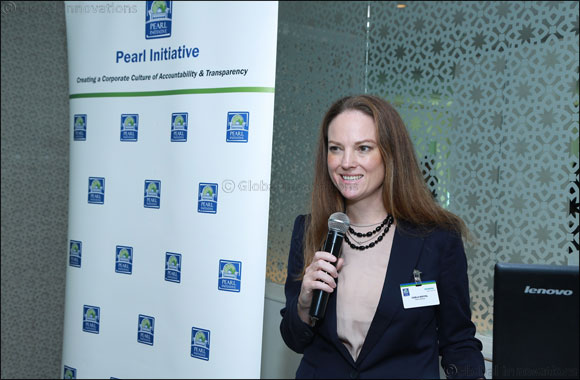 Partners encourage accountability, transparency, accurate reporting as part of mainstream business practice
Dubai, UAE, October 17, 2017: The Pearl Initiative, a leading Gulf-based non-profit organisation promoting a corporate culture of accountability and transparency as a key driver of competitiveness across the region, has welcomed international law firm Winston & Strawn LLP to its network of private sector partners in the region. With the move, Winston has committed to stimulating social entrepreneurship and working to ensure a positive social impact across its markets and operations.
Campbell Steedman, Middle East managing partner at Winston, and Carla Koffel, Executive Director at the Pearl Initiative, have signed a memorandum of engagement (MoE) outlining the details of the partnership. Carla Koffel, said: "Having a prestigious law firm such as Winston & Strawn on board is an honour for us. This association will go a long way in driving governance and transparency in the private sector through emphasising its legal as well as business benefits. Corporate governance is an integral part of building investor confidence and business sustainability. We are honoured to join forces with Winston & Strawn to help us achieve our goal of being a vehicle for innovative partnership, corporate accountability and good governance practices."
Campbell Steedman said: "Our firm has always supported education and awareness on issues that act as barriers to economic and business growth. Corporate governance can help resolve such issues. Through tailoring best practices for the region and facilitating public-private partnerships, we can increase transparency, integrity and accountability within corporations."
He added: "The Pearl Initiative understands the importance of these solutions as well as the challenges for their implementation across the region, and is addressing issues with dialogue-based programmes and partnerships. Aiming to educate business leaders, investors, academia, civil society and the youth, the non-profit entity's approach to promoting sustainable business models is the ideal way forward. We are proud to partner with the Pearl Initiative and help engage companies across the region to bring corporate governance commitment to the forefront, and advance the UN sustainable development goals (SDGs) along the way."
With 16 offices in key financial centres around the world, Winston brings an understanding of the global legal issues to both transactional and dispute related matters. The firm has partnered with the Pearl Initiative to promote business practices that comply with international standards, codes of conduct and ethical behaviour in line with the Ten Principles of the UN Global Compact.
Winston's team in the UAE has decades of experience in the region and a complete understanding of the country's requirements for corporate governance and accountability. The valuable insights were largely gained from the firm's rich consulting experience in project development and finance, construction, asset finance, banking, corporate, M&A, restructuring, private equity and venture capital, and regulatory matters, as well as working on many "first of their kind" projects in the region.
Under the partnership, Winston will support the Pearl Initiative's current programmes, attend forums and capacity-building seminars, and engage with stakeholders. Furthermore, the firm will work alongside the Pearl Initiative to motivate the GCC region's private sector to create a culture of good governance for optimal business sustainability outcomes.
The Pearl Initiative has several projects in the pipeline, including a three-year programme that aims to enhance the competitiveness of SMEs through providing a tailored approach to corporate governance. As part of this programme, the organisation has lately rolled out a GCC-wide e-survey to establish how micro, small and medium enterprises (MSMEs) in the region approach key governance-related issues, such as decision-making, business development, talent acquisition and funding. Scheduled for release in October 2017, the findings of the survey will highlight trends, gaps, challenges and opportunities for SME growth, ownership and competitiveness in the short- and long-term.
Winston and Strawn LLP is the newest member of the Pearl Initiative's partner network that includes companies such as Aljomaih Group, PwC, Bahrain Islamic Bank, Crescent Enterprises, Chalhoub Group, KPMG, BMB Group, Aramex, BNY Mellon, Ernst & Young, General Electric, Habtoor Leighton Group, Philips, Tadawul, The Abraaj Group and many more.