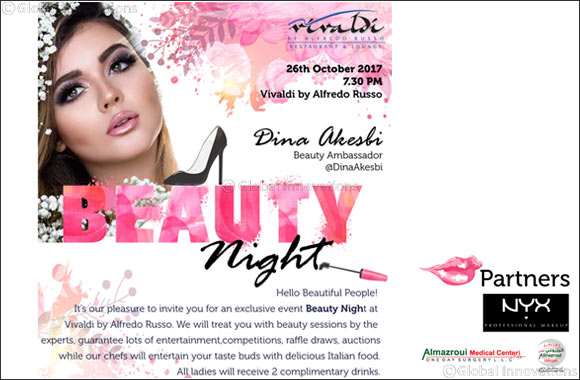 October 16, 2017, Dubai: By popular demand, 'Beauty Night' returns to Sheraton Dubai Creek Hotel & Towers at Vivaldi by Alfredo Russo on October 26, 2017, in collaboration with beauty giants such as Pink Powder Studio and Nyx Cosmetics.
Curated especially for Dubai's make up and beauty aficionados, guests can discover the best of beauty with fashion retailer Nyx Cosmetics and Pink Powder Studio, while enjoying a stylish evening at the impressive creek-facing venue. Making a debut as the main partner for this event, beauty giant Nyx Cosmetic who is known for its trendy make-up looks and social media presence will set-up stations with their pro-team who will share tips on latest make-up techniques, make up shades and looks that will most suit one's complexion along with providing full makeover and final touches for the gorgeous ladies attending. To compliment the live make-up tutorials, Pink Powder Studio will showcase the upcoming latest fashion trends and what the winter line hold for us.
Both partners will put up an interactive booth, bringing the Beauty Night to life. Ladies can enjoy fashion and make-up advice from the experts themselves all through the evening. Two complimentary rounds of bubblies will be offered to ladies as they enjoy the groovy tunes by DJ. Al Mazroui Mecial Centre will also mark their presence with a booth at the venue.
The face of Beauty Night, make-up expert Dina Akesbi, best known for her interactive and informative vlogs on social media, will make her graceful presence all through the evening.
The beauty-themed evening will be held at Vivaldi by Alfredo Russo on October 26, 2017, 8pm onwards.