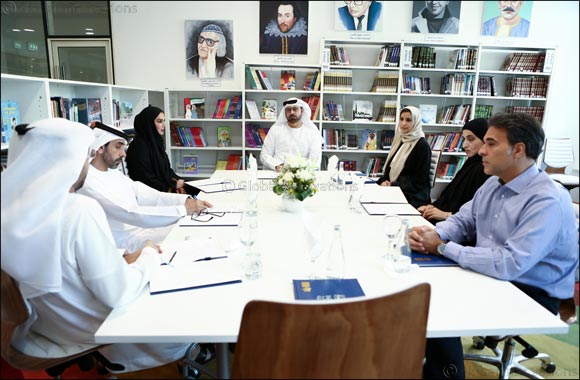 Finalists narrowed down from 16 to three in semifinals before closing ceremony
Dubai, UAE: 17 October, 2017: The Arab Reading Challenge (ARC) Higher Committee met today to discuss mechanisms to increase ARC's reach in the Arab world, and to engage as many schools as possible in the next round, maintaining the remarkable momentum the challenge has established. The committee also focused on how to engrain the habit of reading in more students throughout the Arab world within a comprehensive and sustainable framework.
The final preparations for the closing ceremony on October 18 were also discussed. The ceremony will be held under the patronage of UAE Vice President and Prime Minister and Ruler of Dubai His Highness Sheikh Mohammed bin Rashid Al Maktoum, who will crown the challenge winner, the most outstanding supervisor and the best school. In attendance will be 27 Arab dignitaries and representatives from the 25 Arab and non Arab countries that participated in the challenge, among others.
The semifinal two-day round of qualifiers before the closing ceremony also started today at the School of Scientific Research in Dubai. A selected jury of specialists will assess the 16 country finalists and narrow them down to three before the final ceremony on Wednesday. More than 7,400,000 students from 41,000 schools in 15 Arab countries competed in the second round of the Reading Challenge; six schools made it to the finals where $3 million worth of prizes will be awarded to finalists and winners.
Mohammed bin Rashid Al Maktoum Global Initiatives (MBRGI) Secretary General His Excellency Mohammed bin Abdullah Al Gergawi commented, "His Highness Sheikh Mohammed bin Rashid Al Maktoum believes that reading is the most powerful weapon against extremism, and that this is the force that will improve the future of the Arab world; he believes that books enlighten students, and encourage acceptance, tolerance and openness, which are the tools that Arab youth require to face their futures with optimism and success."
He added, "Over seven million students, 75,000 supervisors and coordinators, 41,000 schools and 1,500 arbitrators have come together through ARC and allowed the challenge to reach new horizons. These figures show us the different stakeholders that have embraced our mission – students, teachers, schools, families and communities."
His Excellency stressed that ARC demonstrated that hundreds of thousands of Arabs can come together to work in unison on an initiative, and ensure its immense success. He elaborated, "ARC shone a light on the hidden role models of the Arab world; it is our duty to highlight their successes, and tell their inspiring stories."
The ARC Higher Committee meeting was attended by His Excellency Mohammed Al Gergawi, as well as Minister of State for Public Education Her Excellency Jameela bint Salem Al Muhairi; Acting Under-Secretary of the Ministry of Foreign Affairs and International Cooperation Ahmed Sari Al Mazrouei; Undersecretary of the Ministry of Culture and Knowledge Development Her Excellency Afra Al Sabri; Assistant Secretary General of MBRGI His Excellency Saeed Al Eter; ARC Secretary General Her Excellency Najla Al Shamsi and MBC Group's Official Spokesman Mazen Hayek.
On the first of the two-day semifinals, the following students competed to reach the finale: Mustafa Abadadi from Mauritania; Bouchra Maysoum from Algeria; Dhouha Mahmoud Hussein from Jordan; Afaf Sharif from Palestine; Rabab Mubarak Abdel Nasser from Tunisia; Ateka Adnani from Morocco; Alaa' Jafar Al Bashir from Sudan and Hafsa Al Dhanhani from the UAE.
"ARC is the most successful reading initiative aimed at increasing knowledge and creativity among young Arabs," said Al Saif Al Shaali, Chairman of the ARC Finalists. "Young generations thrive on competition, as reflected in their passions including sports, electronic games and more. We thank His Highness Sheikh Mohammed bin Rashid Al Maktoum for setting the framework to realise his vision of empowering a generation of educated Arabs with reading; these initiatives and efforts can change our reality and see us headed towards a bright future where our nations thrive on the pillars of knowledge and culture."
On Tuesday, Noor Taboo from Lebanon; Aisha Badea from Bahrain; Shaima Al-Amri from Kuwait; Shaza Al-Tuwairqi and Mohammed Mukhtar Al Salman from Saudi Arabia; Abdullah Mohammed Ammar from Egypt; Sherif Sayed Mustafa from Egypt and Sama bint Saleh Al Ameri from Oman will go through the semifinal qualifiers.
The ARC winner will receive $150,000 and the winning school will receive $1 million. The top ten students will also be honoured and awarded.
The Arab Reading Challenge was launched by His Highness Sheikh Mohammed bin Rashid Al Maktoum in September 2015, and is the largest pan-Arab project dedicated to encouraging students to read in Arabic. The project aims to empower a generation of knowledge seekers who are passionate about reading and learning. ARC is part the United Arab Emirates' mission to serve the Arab community; it aims to promote a sustainable model for reading through an integrated system of student-supervisor follow-ups and support, as well as monetary incentives for students, supervisors and schools across the Arab world. The project hopes to instigate a cultural renaissance in the Arab World by encouraging students to read and continuously expand their knowledge.
The project also aims to raise awareness of the importance of reading in Arabic, and to spread the values of tolerance and acceptance through literature and education. The goal is to see a generation of distinguished and creative Arabs who are invested in elevating the educational and scientific foundations of the Arab world, and of triggering a movement for writers, translators and publishers who can enrich the Arab library.