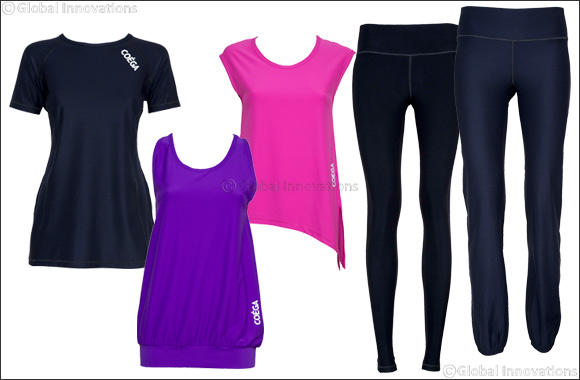 A revolutionary new activewear for ladies by COÉGA Sunwear
Dubai, UAE, October 15, 2017: Homegrown swimwear brand COÉGA Sunwear is delighted to announce the launch of its first COÉGA FitFuse collection - a revolutionary new range of activewear for women who embrace an energetic lifestyle.
Born from COÉGA's experience in the region, the FitFuse collection is cut for a relaxed fit and is a little longer than mainstream activewear. The pieces can be easily layered or worn individually to create stylish outfits that bridge the gap between lifestyle and performance wear.
Made with 100% technical fabric FitFuse is constructed using quick-drying, moisture-wicking, performance technology and comes with breathable, UV protection. The result is an innovative and versatile new range of activewear that can be worn from the school run to the shopping mall or from the park to pilates class and still feel comfortable throughout the day.
Talking about the new FitFuse collection Maureen Hall, the founder and CEO of COÉGA Sunwear said. 'Women in this region are diverse and have different needs when it comes to clothing, but at the same time, they're also experts in navigating tight schedules, enjoy exercising and have a strong appreciation for style. At COÉGA Sunwear we wanted to develop a line of clothing that really fitted this diversity whilst meeting a women's personal needs. The FitFuse range is cut for a relaxed fit to provide a freedom of movement so active women can enjoy all-day UV protection and comfort whilst still embracing their sense of style.'
COÉGA FitFuse is available in a number of vibrant Rose, Violet and Purple tops, as well as a black option, which can be combined with the staple black bottoms to create multiple mix and match outfits or worn as separates to suit a woman's taste and style.
Bottoms come in three designs. A Full-length Tight (AED165), Active Trouser (AED190) and an Active Short (AED130) option all available in sizes 6 - 18 (UK). The collection also features UV protection and a two-way stretch fabric to provide a super-soft opaque cover.
Tops come in a variety of stand-out styles including a Long Sleeve Relaxed Shirt (AED160), Short Sleeve Shirt (AED120), Banded Tank Top (AED135), Asymmetric Tank Top (AED135), T-Back Tank (AED130) and a Sleeveless Jacket (AED225). The collection is made with quick-drying, UV protection and compression performance fabric making it suitable for both indoor and outdoor exercise.
Ladies can choose to pair their outfits with the COÉGA FitFuse Shaela available in two lightweight styles. The ladies Active Shaela (AED70) is available in Black and features UV protection and breathable, moisture-wicking fabric. Whilst the ladies Active Shaela Ball Cap (AED85) comes in a Black and Violet colourway and has all the benefits of the Active Shaela but with a little extra sun protection over the forehead and face.
COÉGA FitFuse is available in leading sport store Adventure HQ in Times Square, Dubai and Dalma Mall in Abu Dhabi. COÉGA FitFuse, Ignite the Fire Within.