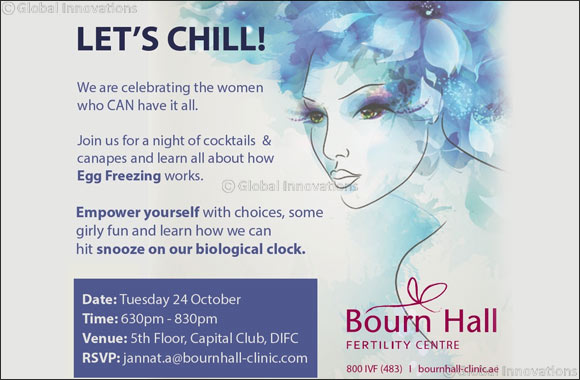 Freeze the Clock
Sunday, 15 October 2017; Dubai, UAE: Women of all ages can book themselves up for an Eggciting Egg Freezing Event by Bourn Hall Fertility Center Dubai on Oct 24th. You can have fun while learning all about freezing your biological clock, preserving fertility and celebrating the women who can have it all.
Ladies can join the fun-filled event for a night of complimentary cocktails and canapés, discover all about the egg freezing process, listen to personal stories of women who choose to freeze their eggs while securing an opportunity to get guidance from medical experts and ask the questions.
Everyone attending the event will take home goodie bags and exclusive gifts.
So empower yourself with choices, some girly fun and understand how you can put a snooze on your biological clock.
Admission is FREE. Secure your space if you are thinking about freezing your eggs, have questions and need answers. Space is limited so please register at the earliest.
Event: "Let's Chill" – What You Need to Know About Egg Freezing
Date: Tuesday, 24th October, 2017
Time: 6:30 – 8:30 p.m.
Venue: 5th Floor, Capital Club, DIFC