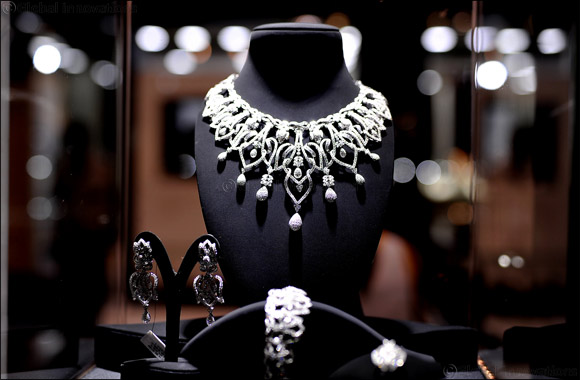 The region's biggest jewellery extravaganza merges Dubai's largest retail and trade shows into four days of fashion shows, industry talks and the finest precious metals, stones and gems from around the globe
Dubai, UAE – 15 October 2017: Calling all jewellery aficionados and fashion magpies: VOD Dubai International Jewellery Show, the region's biggest jewellery and gem exhibition that merges the emirate's two leading showcases – the trade-centric VICENZAORO Dubai and the consumer-friendly Dubai International Jewellery Week – will debut at Dubai World Trade Centre from 15-18 November 2017.
Promising the most impressive curation of luxury gem and diamond collections the region has ever seen, VOD Dubai International Jewellery Show will showcase tens of thousands of exquisite pieces to the well-heeled of Dubai, as well members of international trade organisations, chambers of commerce, wholesalers, manufacturers, traders and retailers. In addition to members of the public hunting the latest sparkly collections, exhibitors can also expect high net-worth buyers hailing from more than 100 countries around the MENA region and beyond, including Lebanon, Jordan, Sri Lanka, India, Pakistan and Russian speaking countries.
With free admission to VOD Dubai International Jewellery Show, 30,000-plus visitors are expected to descend on more than 200,000 square feet of indoor exhibition space at DWTC. Catering the masses will be more than 500 local, regional and international exhibitors who will be launching brand new product lines, collections, special bespoke pieces in gold and diamond, and new innovations in packing and technology.
To ensure jewellery hunters make the most of their time, VOD Dubai International Jewellery Show will boast a unique layout to boost the visitor experience. The show will be split into four strategic districts – Global Brands, Fine Jewellery, Gemstones & Diamonds, and Packing and Technology – ensuring all the dynamic demands of manufacturers, retailers and buyers across the constantly-evolving global jewellery market are met.
In terms of exhibitors, confirmed brands include Dhamani, Mahallati, La Marquise, Malabar Gold and Diamond, Amwaj, Peopley, Renee Jewellers and more. Flying in from afar and representing the global arena, visitors can feast their eyes (and wallets) upon the likes of Nsouli, Itan, ,Hasbani, Leading Italian Jewels, Superoro, Chiampesan, Luca Carati,Ferrari Firenze, Garavelli and many others.
Aside from perusing stunning jewellery and diamond collections, visitors can also enjoy influencer meet-and-greets throughout the weekend, as well as daily fashion shows and trend presentations. The opening day Gold-themed fashion show will put a shine on the catwalk, while Diamonds, Coloured Stones and Heritage collections are themes scheduled for days two, three and four respectively. Aiming to foster young and local talent by creating career opportunities for regional designers, the Jawhara Heritage Awards will also be held on the closing day, November 18th.
Last but certainly not least, the TRENDVISION Jewellery+Forecasting seminars taking place on 16 and 17 November will forecast jewellery trends for 2018, with the Independent Forecasting Observatory of the Goldsmithing and Jewellery Trades presenting its overview on consumer habits and market.
Corrado Facco, Managing Director of Italian Exhibition Group and Vice President of DV Global Link, which organizes the event, said: "VOD Dubai International Jewellery Show is a unique and innovative event specifically dedicated to the international jewellery community. By moving the show to the Gulf market's high sales season, we are doubling our target of reference by catering to both general consumers and professional traders. VOD Dubai International Jewellery Show will significantly boost Dubai's reputation as a global jewellery trading hub and serve as a strategic launching pad for international manufacturers and retailers to enter the burgeoning regional jewellery sector."
VOD Dubai International Jewellery Show is open to both retail and trade visitors. The show is open 2pm-10pm from November 15, 16 and 18 2017, and 3pm-10pm on November 17 2017. Entry is free.