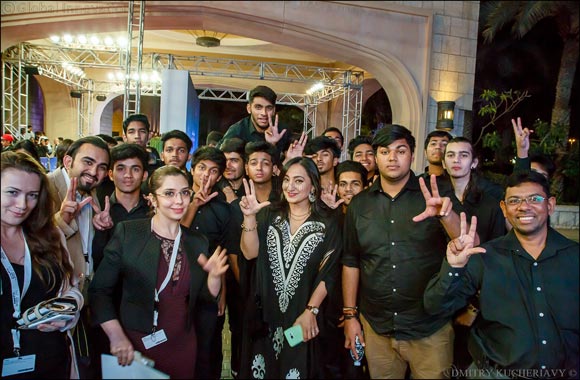 Once in a lifetime opportunity for UAE film fans at the region's leading film festival
Registration is now OPEN for the 14th Festival, December 6-13
Dubai, 15 October 2017: With less than two months to go until the 14th Dubai International Film Festival (DIFF), the glittering annual gala is inviting volunteers to join the team that brings cinematic magic to the Emirates each December. Registration is now open for DIFF's popular volunteer programme calling out to all UAE Nationals and residents over the age of 18.
Running across eight action-packed days, DIFF will welcome actors, directors, producers and industry professionals from across the globe, as well as eager film fans, to enjoy and celebrate the very best of cinema. DIFF's volunteer program is a unique opportunity to be an integral part of the team, supporting a variety of Festival operations including marketing, media, administration, box office, red carpet ushers and event management. Not only does a volunteer role provide a strong contribution to anyone's CV, but it is also an equally thrilling opportunity for anyone dreaming of a career in the film industry.
Mohammed Alhousani, DIFF's Director of Human Resources & Administration, commented on the volunteer programme: "Last year we had 600 amazing volunteers who dedicated more than 5000 hours of their time to make the Festival happen. The fact that many of our volunteers return year on year speaks not only of their dedication and passion for films, but also of the quality of the volunteer programme. If you like to meet new people, work hard, get hands-on experience and, most importantly, are passionate about film, we want you on the team!"
Samina Yusuf, HR & Volunteer Manager of DIFF said: "Coming together to create the Festival is a team effort and we couldn't do it without our incredible volunteers! They really are a treasured resource, and as we get closer to Opening Night, we are excited to welcome old and new faces to the DIFF team."
Alongside building skills, volunteers can also enjoy film premieres during the Festival, networking opportunities and a Letter of Recommendation and a Certificate of Appreciation from DIFF. Above all, volunteers at DIFF are guaranteed to make memories that will last a lifetime.
Applications for the volunteer program are open now at www.diff.ae. All information is available on DIFF's online Volunteer Dashboard once the applicant has registered and signed in. If accepted, the applicant will get a confirmation letter inviting them to the Volunteer Orientation session in November, 2017.