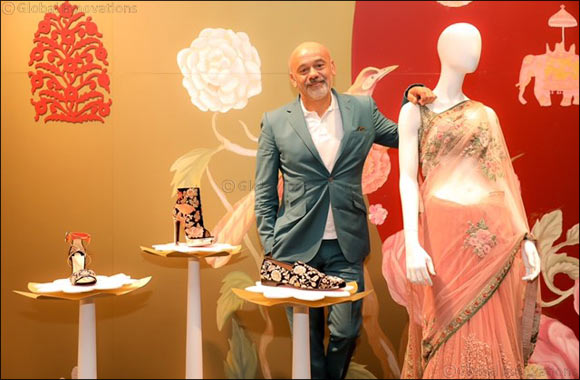 Dubai, UAE, October 15, 2017: As part of the 'Dear India' campaign, Level Shoes hosted celebrated designer Christian Louboutin for a talk in-store on his deep love of India. The designer, joined by moderator Ritu Upadhyay uncovered the moments when Christian truly fell in love with India for the first time, at sixteen years old.
As one of the biggest names in the fashion industry, Louboutin spoke about his admiration for India, as well as it's significant influence on his work as a designer. He explained how the vibrant and welcoming culture of the land has not only inspired his work, but has also become a part of it. Louboutin announced the launch of his collaboration with Indian couture designer Sabyasachi for an exclusive collection of womens and mens shoes which are a true reflection of the luxurious nature of Indian workmanship.
On India, and on his collaboration with Sabyasachi, Louboutin said "India has always been a fascinating and very interesting country. In terms of inspiration, it's one of the countries that always comes to my mind. It is nice to bring the work that I've been doing for the Sabyasachi collaboration here to Dubai as the bright light of the city brings a beautiful exposure to the rich work. There is a common thread between India and the Emirates on how the bright sun light reflects on the work that has gold and embroidery details and textures that are not flat."

The Christian Louboutin x Sabyasachi collection is available exclusively at Level Shoes in the Middle East.