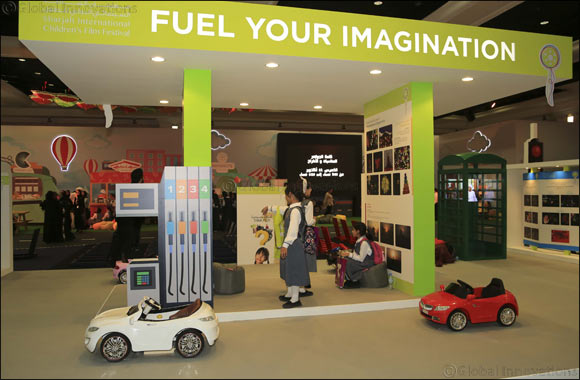 Guessing games, trick photography, virtual reality booths, and more explored by young visitors
Sharjah, 12 October 2017: Alongside being the first-of-its-kind cinematic extravaganza curated for children and young adults, the fifth Sharjah International Children's Film Festival (SICFF 2017) has conceptualised and created a vast selection of hands-on activities, which are encouraging young participants to challenge their creative imaginations and experience the media arts and cinema in fun, yet relevant ways.
The "Guess Who" game, for instance, is a riot of colours to begin with, and SICFF has provided children 24 movie poster cards to determine what the name of the movie is. The objective is reached by asking either 'yes' or 'no' questions to the competing team, or more elaborate ones, like, is this a superhero movie, and so on. The game allows players to think about what questions to ask, make them more cinema relevant, dig into their storehouse of cinematic knowledge, and most importantly, encourages them to craft their queries well to eliminate the card in the fewest possible attempts.
A FUNN Art Exhibition featuring a collection of photography, movie posters – both remakes of movies that exist and original ones from the films that FUNN's young members have made, and other artwork created by them clearly reflects the quality of talent that the younger generation possess and the kind of training FUNN is providing to nurture that.
But, it is not all intellectual. A trick photography booth where the pictures taken give the illusion of a director's set as well as the photo's subjects hanging upside down from the ceiling, activities that introduce the best of the virtual reality world, big LED screens projecting games, films and digital activities, and of course, the massive iron throne replica from the hit HBO series Game of Thrones – all come together to make it a big feast.
At the last day of the festival tomorrow, the organisers will continue hosting several workshops and screen a mix of short films and animations like "A Night in a Taxi", "Cats & Dogs", "The Unwashed Penguin", "The Book Worm", and more.