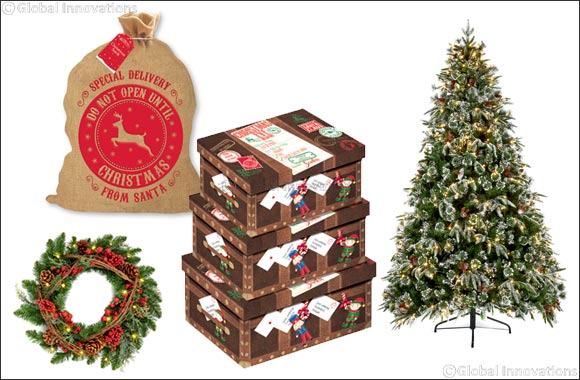 Dubai, October 12, 2017: With Christmas just around the corner, preparing for the holidays has just become easier with the launch of the widest selection of seasonal products at Al-Futtaim ACE.
The Christmas collection from Al-Futtaim ACE features an extensive range of products from indoor and outdoor decorations, gifting, dining wear, a selection of gift wrapping and even your choice of an artificial or natural Christmas tree.
Al-Futtaim ACE are offering fantastic gift ideas for the whole family, including for him, her and the kids. Pick up a Nespresso machine for dad, a Nutribullet or Dyson SuperSonic hairdryer for mum and don't forget the wide choice of toys and books for the kids as well as a host of other products to choose from. Go that extra mile and collect a Bose headset or Apple iPhone from Plug-Ins, now available at Al-Futtaim ACE Dubai Festival City and Yas stores.
The collection boasts three seasonal must-have themes for the year including Yuletide Cheer, Snowflake Wishes and Noel Splendour providing plenty of inspiration for customers throughout the holiday season.
Al-Futtaim ACE will also be showcasing a host of events throughout November. Expect a range of exciting kid's activities including Christmas story telling with Santa, Gingerbread decorating, Pop-up cinema and Christmas tree lighting, hosted by Virgin Radio DJ Kris Fade, and more. A Lemax Christmas Village will be on display in Dubai Festival City, Sheikh Zayed Road and Yas Island stores and there are plenty of chances win an amazing hamper on Al-Futtaim ACE social media pages throughout November.
Rasool Taj, Head of Buying – Home and Seasonal at Al-Futtaim ACE said, "Setting up your home for Christmas is made easy with the collection from Al-Futtaim ACE at great value for money. From traditional to modern, the collection features an amazing range of over 2000 new products, decorations and gifts that will make this season truly special."
The Christmas collection is available in-store from October 12 across all Al-Futtaim ACE stores in the UAE including Dubai Festival City and Sheikh Zayed Road in Dubai, Yas Island, Mina Road and Dalma Mall in Abu Dhabi and Bawadi Mall in Al Ain.