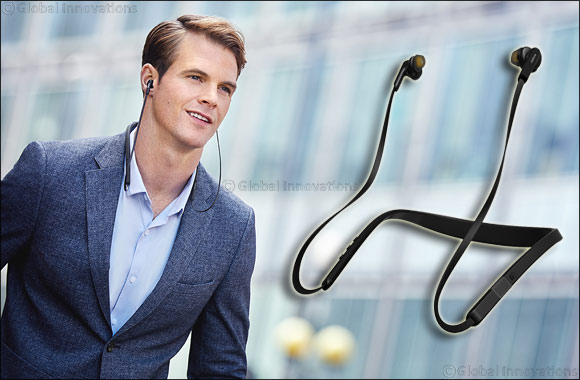 Up to 18 hours of battery time
Seamlessly switch between calls and music, on-the-go, throughout the day
Superior design for optimized comfort and fit
Wind and water resistant
Dedicated Siri® and Google Now™ button
Dubai, United Arab Emirates, October 10, 2017: Jabra, part of the GN Group, pioneers in sound, launches the Jabra Elite 25e, an in-ear stereo neckband headphone with best-in-class battery for wireless calls and music*. The Jabra Elite 25e are full mobility on-the-go headphones that allow for seamlessly switching between calls and music throughout the day for optimal effectiveness and productivity – all of this for an accessible price point.
The Jabra Elite 25e headphones are perfectly powered: One charge delivers all day or week power with up to 18 hours of battery life – giving you the freedom to stay connected anytime and anywhere. This is the best performance for a headset in this class. Whether the headphones are used for listening to music, commuting or making and taking calls, the wind-protected microphone allows for total concentration.
The neckband has bendable flex zones and the design will ensure a great fit and all-day comfort. By enhancing the fit with Jabra's EarGels™ users get better in-ear sound. The eargels and speakers are engineered for an immersive audio experience. The new eargel design allows for a more secure and comfortable fit with less audio leakage as a result. This greatly improves the listening experience, so whether you prefer rich bass or crisp high tunes, your sound quality needs won't be compromised.
With a dedicated voice control button and message read out, you have one-touch access to Siri® and Google Now™, letting you access information hands-free, on the move. There's no longer any need to take your phone out of your pocket if you want to answer a call or change your tune!
"The Jabra Elite 25e is engineered with the multi-tasking, on-the-go person in mind who values high quality conversations and music while on the move," said Calum MacDougall, SVP at Jabra. "No product currently on the market delivers this level of battery life and experience for the Jabra Elite 25e's price point. Therefore, we believe this product, following in the footsteps of the hugely successful Jabra Elite Sport, is worthy of the name Elite."
Features
All-day music and calls. Up to 18 hours of battery time.
Amazing durability. Wind and water resistant. IP54 rated.
Even better fit. Improved neckband and EarGelsTM design.
Optimal connectivity. Connects up to 8 devices via Bluetooth®, and two at the same time with Multiuse™
Dedicated voice control button. One-touch access to Siri® and Google Now™.
Exceptional sound quality. Speakers engineered for immersive audio.
Find out more about the new Jabra Elite 25e at: http://www.jabra.com/elite25e
Pricing and availability
MSRP is AED339. Jabra Elite 25e is now available in Black across all key retail channels in UAE.
*Based on the results of battery performance testing of leading competitors of Bluetooth wireless headsets below USD 100. Research was conducted by Strategy Analytics between 13-21 July 2017.