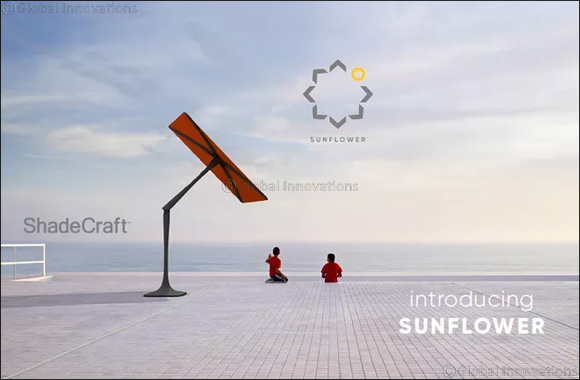 SUNFLOWER Marks a New Era in Intelligent, Autonomous Outdoor Living Products
Dubai, United Arab Emirates- October 10, 2017: LA-based robotics startup ShadeCraft, the pioneer of intelligent, autonomous outdoor living solutions, is set to showcase world's first autonomous robotic and solar powered shading system at GITEX Technology Week 2017, marking the solution's much anticipated debut in the Middle East.
SUNFLOWER, the world's first artificial intelligence-controlled, solar-powered, robotic patio shade uses artificial intelligence (AI) and internet of things (IoT) connectivity to provide autonomous, optimal shade and energy collection. The fully autonomous robotic parasol features a multitude of sensors that collect data in real time and is designed to operate as the market's first fully functional outdoor smart home hub.
With the market for smart home products estimated to reach the $14 trillion mark by 2022, ShadeCraft is dedicated to creating solar powered, outdoor products that connect people to the internet of things through AI Integration and connect consumers to the smart home ecosystem.
SUNFLOWER's solar panels collect and store the power it requires via a removable, self-charging battery with an operating capacity of more than 72 hours. The intelligent, Wi-Fi-enabled microphone and speakers allow users to communicate with popular AI assistants. The solution can be controlled remotely with SmartShade, a free mobile application that ShadeCraft will release for iOS devices and Android OS devices in 2018.
In addition, the solution's integrated security camera provides consumers with added protection outside their homes through an autonomous robot and can be connected to existing home security systems. The robot's sensors provide real-time weather data, including UV radiation levels, humidity, air quality, and temperature, and detect wind and obstructions to ensure consumer safety.
'Dubai has become a hub for technology and we believed that Sunflower; the world's first robotics AI shading system is necessary for this sunny region of the world. As a California startup, ShadeCraft understands the necessity for robotic shading systems. But Dubai is where our technology can blossom and supply a very necessary function to improve human life outdoors through AI integrated Robotics. We are pleased to have the opportunity to showcase Sunflower which is the world's first robotic AI shading system at Gitex 2017," said Armen Gharabegian, founder and CEO of ShadeCraft.
ShadeCraft will introduce SUNFLOWER at their stand (S2-120) in Sheikh Saeed Hall at the Dubai World Trade and Centre (DWTC) from October 8 through 12th and will showcase SUNFLOWER's features and operations.