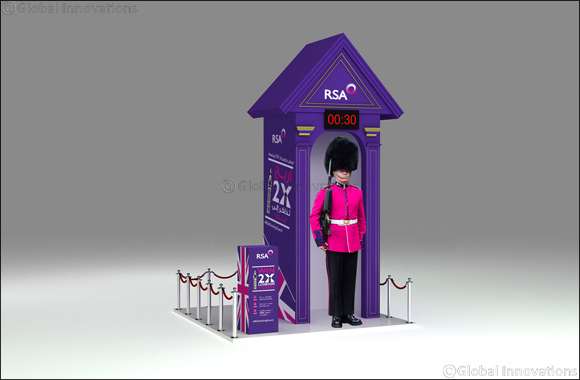 Make the Queen's Guard smile and get a chance to win a trip to London for two!
Dubai, October 10, 2017: RSA Insurance will be challenging residents of the UAE with one mission: to see if they can make one of the Queen's Royal Guards smile.
The Queen's Guards are famed for their ability to remain entirely focused on their job, even in the face of camera-laden tourists and wannabe jokers. Despite surrounding distractions, they remain impassive as thousands of tourists a day approach them. They guard royal residences in London and are a popular subject for visitors taking pictures.
RSA have arranged for the people of the UAE to experience the smiling guard for themselves at Dubai Festival City Mall. Given the notorious difficultly of the challenge, RSA will reward one lucky winner who is able to crack a smile on the face of the guard with the chance to win a trip to London for two. The challenge will be taking place between 10th to 14th October (Tuesday and Wednesday 5-11pm, Thursday 2-10 pm, Friday 4pm- midnight, Saturday 12 – 8pm) at Dubai Festival City Mall.
Commenting on the campaign, said David Harris, Director of Distribution, RSA Insurance: "We are really proud of our 300-year heritage in the UK and the tradition of the Queen's Guard is something which epitomises British culture. At RSA, we are dedicated to adding value to our customers by presenting them with best-in-class service and the fun activity will allow passers-by to experience our heritage for themselves, while giving one lucky customer the chance to see this tradition for themselves in London."
Over the past year, RSA has introduced a range of new propositions in the UAE, in addition to building on its suite of existing services. It enhanced its motor insurance offering by becoming the first insurer in the country to introduce an innovative taxi fare cover, as well as a user-friendly policy booklet which includes a range of innovative upgrades on the motor insurance covers in response to customers' growing needs. RSA is also the first insurance company to launch an exclusive loyalty programme named RSA Royalty, designed to reward customers by offering exclusive member benefits that touch different aspects everyday life; from dining in a restaurant to getting the car washed.