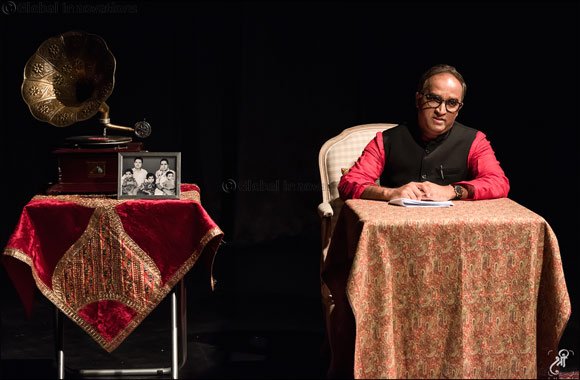 Mian Biwi Aur Wagah makes a comeback after the play's successful inaugural shows in August

DUBAI, United Arab Emirates, October 10, 2017: Coinciding with Dubai's venerable initiative of "The Year of Giving 2017," the city's newly formed homegrown South Asian community theatre group, Goonj Productions, is organizing a free matinee show of its back-on-popular-demand Urdu play "Mian, Biwi Aur Wagah".
An additional show of the play, which has been written and produced by professionals based in the UAE, will be staged for 160 blue-collar workers on Friday, October 13, 2017, 2:30 p.m.
This show will be followed by the play's regular ticketed shows in the evenings of 13-14 October at 7:30 p.m. at The Junction, Alserkal Avenue. The duration of the play is 120-minutes with an interval included.
The play's inaugural shows drew full houses on August 11 and 12 at the city's community theatre home, The Junction. It is making a comeback, thanks to its popular demand amongst the city's Urdu and Hindi speaking populace. Under the theme "Shukria" (Thank You), the group aims to provide its workers quality entertainment.
Special show for heroes
"Whether they are working in our homes as domestic help or building beautiful buildings across the country, taxi drivers, waiters, and waitresses, this show is for all these wonderful people. It is an honest appreciation and recognition of their efforts and contribution to the society," said Amna Khaishgi, writer and producer of the play who will take stage as "Biwi"(wife) alongside the play's co-writer and her husband, Ehtesham Shahid, seen in the role of "Mian" (Husband).
Amna has been a journalist and a documentary filmmaker in the UAE for over a decade and has brought many stories of blue-collar workers to light. She believes theatre entertainment is a nice way to express gratitude.
During the show, workers will be served as special guests of honor and will be treated to lunch and refreshments by the play's food partner, Little Lahore.
Interview campaign
The play's social media campaign introduced bite-size mobile-captured video interviews by the team's cast and crew where they asked their building security, restaurant waiters, and others, about the last time they wrote a letter to their loved ones.
"With the advent of technology and lack of time, writing letters feels like a tradition long gone," said waiter Mohammed Jawed who works at a local Indian restaurant.
Jawed recollected writing letters to his loved ones, especially his father. Asked who would he write to if given another chance, Jawed quipped, "my father."
"I would write to him that his prayers and wishes are an anchor that keeps me going, and he doesn't need to worry about me. I am taking care of myself, and please convey my love and wishes to everyone at home," he said.
Many workers cited a heartbreaking desire to write to their mothers about how they miss them sorely. They expressed heartfelt love and longing, besides assuring them of their welfare.
"I want to write to my mother and tell her, 'It is so difficult and painful each day to live so far from you. I miss you so much and wish to be with you," said Abid, a security guard from Pakistan, who has been living in Dubai for a few years now.
Community theatre
A homebred local community theatre initiative, Mian, Biwi Aur Wagah has set an important benchmark in facilitating and evolving the UAE's language-based community theatre experience, striking an emotional chord with the audience of all age groups.
Inspired by true events and stories, the play's genesis was formed through a casual evening of drawing-room conversations on the void experienced in communicating with our loved ones, due to the onslaught of technology, with a conscious need and appeal to revive the intimacy of an almost-forgotten tradition of letter-writing, especially among the new generation.
Nominate your helper
The team is encouraging their followers through their social media page to gift a place at the play to any worker or helper who works for them, and who think could do with a day of leisure and quality entertainment.
The message reads: "If you want to gift your domestic helper a token of appreciation, please register their names with us and we will welcome them on your behalf. This is a free invite, so don't miss this wonderful opportunity to show you care. There are limited seats available. Hurry, and reserve a place now! For reservations, please email: mianbiwiaurwagah@gmail.com"
Mian, Biwi aur Wagah is directed by Dhruti Shah D'souza, a Dubai-based theatre artist, storyteller, writer, and playwright.
The play is also co-directed by Sheherzad Kaleem who is an award-winning director and producer. Cast includes Majid Muhammad – who plays Wagah – and has also co-written the script. Johan D'Souza's live renditions add a melodious layer to the act of storytelling on stage. Other performers include Maha Jameel and Faraz Waqar.