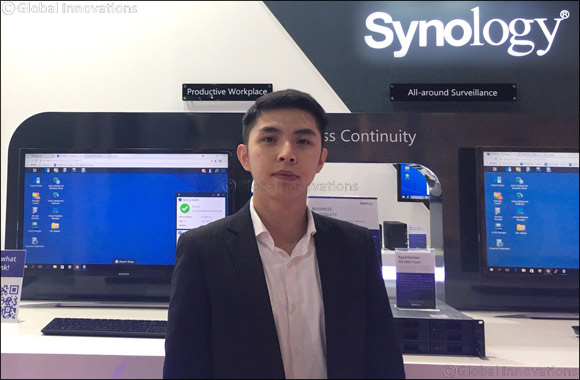 Dubai, UAE—October 9, 2017: Synology has unveiled its latest innovations in networking, application, and storage technologies at GITEX Technology Week. Recently coming off their successful Synology 2018 user events in Taiwan and 16 other countries around the world, Synology is looking to empower enterprises and home consumers in the Middle East market with a range of new and exciting solutions aimed to accelerate their businesses and secure digital assets.
During the event, Synology introduced new capabilities for its Network Attached Storage (NAS) and Network Video Recording (NVR) products. Upcoming Desktop Plus Series products include the DS218+, DS718+ and DS918+, which are armed with advanced Intel solutions, providing doubled transcoding performance and better RAM expansion options. The company also unveiled the DS3018xs and FS1018, which are a new 6-bay NAS and 12-bay all-flash solution that will bring top-notch performance to compact desktop storage to enable compute-intensive application scenarios.
Surveillance has also been one of Synology's key product focuses and at GITEX, the company unveiled new Network Video Recorder products in the NVR1218 and VS960HD. NVR1218 supports 12 concurrent recording channels and a COM port interface that works perfectly to support POS integration in Surveillance Station 8.1. while the VS960HD is a palm-sized local display companion to Surveillance Station, with up to 96-channel HD live view and dual HDMI for 4K and 1080p output, making it an ideal TV wall solution.
"With the strong buying power and rapid growth of ICT industry, the Middle East is an important market for Synology as we continue to enable businesses with new innovations in NAS and hybrid cloud solutions. Today, modern enterprises are rethinking storage due to more and more IT managers becoming a lot more comfortable with the idea of moving company data to the cloud. In the Middle East, many businesses have introduced network-attached storage (NAS) to replace their file or backup servers, especially considering its cost-effectiveness along with a rich and growing set of features. We look forward to continue driving this trend by helping professionals work together while maintaining an efficient data protection solution," said Nick Jheng, Sales Account Manager at Synology.
New Features of DiskStation Manager (DSM)
In support of upcoming products, Synology has brought an array of new software features in terms of collaboration tools, data protection and virtualization. Key ones include:
Synology Drive: A new file access, synchronization and management portal integrated with Synology Office, which now comes with a brand-new document type called Slides. With support for PC Client software and Universal Search, users can easily locate files and sync them across different devices.
Active Backup for Business: Supports VMware virtual machines backup and the system image backup for Windows/Linux servers and PCs, with highlights including differential backup, granular recovery and global deduplication.
Active Backup for G Suite / Office 365: Now includes the backup of email, calendar, and contacts, and supports granular, self-service recovery and single-instancing to reduce storage consumption.
Virtual Machine Manager: Allows you to set up and run various virtual machines, including Windows, Linux, or Virtual DSM, on one Synology NAS. Support for high availability, storage migration, and replication to maximize service uptime.
iSCSI Manager: A brand new and powerful management tool for your iSCSI service, providing a new LUN type with the refined snapshot technology based on Btrfs file system that enables snapshots to be taken within seconds regardless of LUN size.
New Distribution Partners and Customer Win
In terms of channel expansion, Synology has also announced new distribution partners in GCC countries such as the UAE, KSA, Oman, Bahrain and Qatar. The new partners include INTERDIST Alliances, SECUCOM and Electron Tech. A new customer win this year is also announced, Cresco Holding, which is the first client case in Middle East region to adopt Synology Chat application to build its company employee communication platform and con-call system between HQ and branch offices.
During GITEX month, Synology will also be running promotion program on selected NAS models.