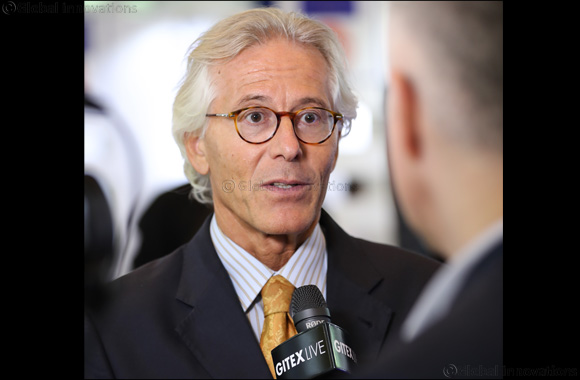 Dubai, United Arab Emirates, October 8, 2017: The European Union has announced its first ever participation at GITEX Technology Week. Led by His Excellency, Patrizio Fondi, EU Ambassador to the UAE, the delegation will open the European Pavilion officially in Sheikh Rashid Hall (G1) on October 9th, 2017 at 1 PM.
Joining the delegation are 15 hand-picked cutting-edge small and medium-sized businesses from Europe showcasing their innovative technologies to business and government entities in the UAE, and across the region. The delegation will be accompanied by Trade Counsellors Wolfgang Penzias and Tania Sateri on October 9th.
Speaking on the European Union's involvement in the exhibition, Patrizio Fondi, Ambassador to the UAE said: "We are proud to participate in GITEX for the first time, as it gives us the opportunity to demonstrate our technological innovation as an EU collective, and aligns with our recently launched Horizon 2020 project. In addition, having young people showcasing their companies within the European pavilion enables us to empower the younger generation in Europe, which is very important and one of our key priorities.
"The EU pavilion at GITEX features 15 of Europe's most innovative new companies; businesses on the stand range from a cybersecurity company, to an innovative anti-drone system. The selection process was very rigorous and only the most original and promising companies were chosen to take part - the final 15 should certainly be proud to be exhibiting at GITEX."
His Excellency also expressed his admiration for Dubai, GITEX's host city: "Dubai really is a SMART city and is increasingly becoming a model for the rest of the world. What's more, with EXPO 2020 on the horizon we can see that innovation within the city is increasing exponentially. The EU is continuing to build very strong ties with the UAE, and Dubai plays a very significant role within this partnership framework."
GITEX Technology Week and GITEX Future Stars 2017 will run from 8-12 October 2017 at the Dubai World Trade Centre.