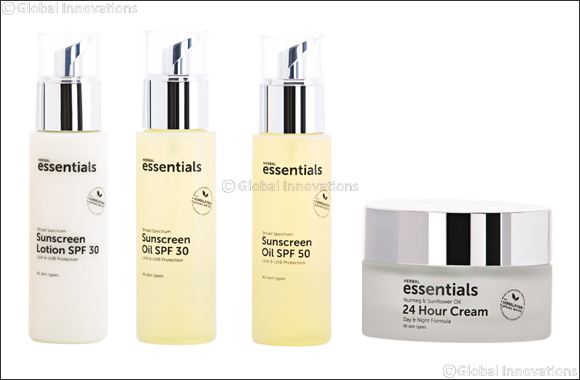 **A hand-in-hand approach to beautiful skin**
As the temperature starts to cool off, it can mean only one thing – beach season is back! Whether you love to bask by the pool on your day off, or hit your favourite beach club at the weekend, one item that should always make the cut in your beach bag is SPF.
Aside from being a beach side saviour, SPF should also be a staple in your daily beauty arsenal and be applied to the skin as frequently as your daily face moisturiser. Best applied to the face and body 30 minutes prior to sun exposure, Herbal Essentials award-winning Sun Care range consists of 3 products, all of which have been formulated with a daily broad-spectrum filter that offers effective UVA and UVB protection whilst leaving the skin fully hydrated.
Using a broad spectrum sunscreen has many advantages. It protects from the effects of UVA filters which can cause premature skin ageing including fine lines, wrinkles, age spots and other skin discolouration. UVA can also pass through window glass and penetrate deep into layers of the skin, meaning it is equally important to wear sunscreen daily, even when you are not going outside. While UVB rays are the primary cause of sunburn and are particularly damaging to the skin's outer layer.
The Herbal Essentials sun screen range consists of:
Broad Spectrum Sunscreen Lotion SPF 30 (AED 135)
Broad Spectrum Sunscreen Oil SPF 30 (AED 140)
Broad Spectrum Sunscreen Oil SPF 50 (AED 145)
With ingredients including Jojoba, Rosemary Oil and hydrating Aloe Vera, Herbal Essentials SPF is fast absorbing, leaves no white marks and is suitable for the whole family. The dry oil is non-greasy and contains both Coconut and Sweet Orange Oil, so your skin not only stays protected, it smells delicious too! Sweet Orange is known for its high levels of Vitamin C and antioxidants. It helps to fight premature ageing and support natural collagen. Jojoba Oil is packed with Vitamin E, B-complex, Zinc and has many moisturising, anti-bacterial and anti-ageing properties. Coconut is a true wonder ingredient due to its antibacterial and antifungal properties, it is an excellent moisturiser and penetrates deep into the skin.
After a day spent in the sun, the perfect accompaniment to ensure your face is thoroughly hydrated is Herbal Essentials Nutmeg and Sunflower Oil 24 Hour Cream (AED 189). This luxurious cream compliments the Herbal Essentials SPF beautifully and is blended using natural extracts of Sunflower Oil, Nutmeg, Citrus and Clove, widely acknowledged for their rejuvenating properties. Sunflower Oil is rich in Vitamin E and is great for protecting against sun damage, fighting premature ageing and aiding in skin cell regeneration. Nutmeg is rich with antibacterial and anti-inflammatory properties and helps treat skin breakouts. Lastly, Clove helps to reduce blemishes, scars and is rich in many minerals. With such an array of natural ingredients, this cream leaves the skin feeling completely nourished and deeply hydrated all day and night.
Award winning UAE beauty brand Herbal Essentials offers a range of skincare products that use pure Himalayan Spring Water, untouched and unprocessed by man it takes 20 years to pass through the natural layers of rock, sand and clay so it's packed with superior macro mineral benefits for your skin. Shipped to Europe directly from the foothills of the Himalayan Mountains this revitalising water, enriched in calcium, magnesium and potassium lends itself to helping create natural products for the face and body – ancient beauty wisdom with pure Himalayan Spring Water blended to the highest standards in Europe.
All products in the range are all-natural, paraffin and paraben free. Herbal Essentials is a certified member of PETA's "Beauty Without Bunnies" Programme, meaning products are not tested on animals. Herbal Essentials products are all certified by Dermatest GmbH, a leading German dermatologist research institute who have approved the products as "dermatologist tested/approved". The brand is also a proud member of '1% for the Planet' that aims to give back to Mother Nature.