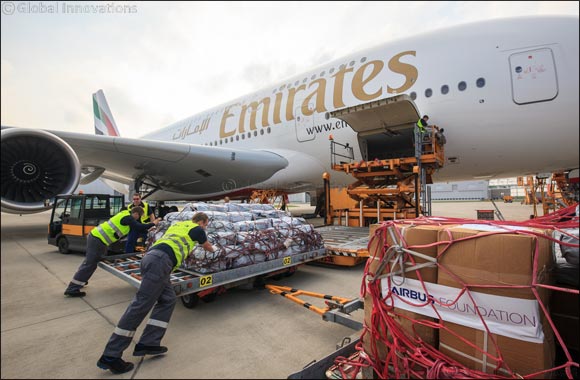 Dubai, UAE, October 4, 2017: Emirates Airline, the Airbus Foundation and the NGO Welthungerhilfe have joined forces to bring emergency shelter items from Hamburg, Germany, to the United Nations Humanitarian Response Depot (UNHRD) in Dubai, UAE.
The aircraft, which is the 98th A380 to join the airline's fleet, carried 1,020 tarpaulins and ropes required for the immediate first needs alleviation after a humanitarian crisis. The goods are among the ten most needed items in immediate humanitarian aid and will support 500 families. The tarpaulins and ropes can be used for replacing destroyed roofs, as temporary shelter in destroyed areas or even as water tanks.
Tim Clark, President, Emirates Airline said: "Emirates' longstanding partnership with Airbus to support humanitarian organisations in transporting goods and aid to disaster stricken areas highlights the essential role that aviation plays in addressing humanitarian emergencies and supporting relief operations. We are proud to work with the Airbus Foundation and Welthungerhilfe to ferry these important relief supplies on our 98th A380 bound for Dubai, which will reach the regions and people who need it the most."
Till Wahnbaeck, Chief Executive Director of Welthungerhilfe emphasized:" Our successful response to emergency situations relies on strong and reliable partners and professional preparation. This flight is an example how different partners can make a difference to save lives in emergency assistance.
Tom Enders, CEO of Airbus and Chairman of the Airbus Foundation said: "We are very proud of our long-term partnership with Emirates supporting the humanitarian community. I would like to thank Emirates and Welthungerhilfe for making this flight possible. Continuously transporting relief goods to the UNHRD in Dubai using delivery flights is a great example of how aviation can be a real force for good."
The goodwill flight is part of the cooperation between Emirates Airline and the Airbus Foundation which was created in 2013 to utilize future A380 Emirates deliveries for transporting humanitarian aid to the UNHRD. Since the start of the cooperation 125 tonnes of goods have been transported.
The IHC is an independent, humanitarian free-zone Authority hosting a community of members comprised of UN agencies, Non Profit Organisations, Intergovernmental Organisations and Commercial Companies. Strategically located near Dubai Al Makoum International Airport, the IHC is a large-scale logistical hub for humanitarian aid response to crisis-stricken areas. It was created in 2003 and made available by the Government of the UAE.