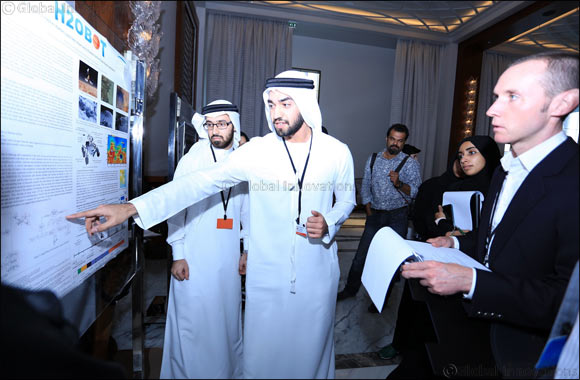 Competition will be part of MBRSC Science Event where scientific studies and space missions' projects to the Red Planet
Two top winners will receive valuable prizes of AED 10,000 & 5000
October 3, 2017, Dubai, United Arab Emirates: Mohammed Bin Rashid Space Centre, has announced the extension of the deadline to receive Explore Mars Competition proposals to October 14. University students who are interested to participate in the competition can send their projects to science@mbrsc.ae or apply on the competition page on MBRSC Science Event website.
During the science event, the projects will be presented as posters, and discussed by a specialized scientific and technical committee composed of local and international engineers and scientists in the field of Mars Science and Space Systems Engineering. The committee will judge the mission concepts based on the applicability of the mission, the rationale as well as the novelty of the mission defined. The top two winners are going to receive valuable prizes. The first winner will receive AED 10,000, and the second AED 5,000.
The competition is part of the Mohammed bin Rashid Space Centre Science Event (MBRSC Science Event), that will be held under the patronage of His Highness Sheikh Mohammed bin Rashid Al Maktoum, Vice President and Prime Minister of UAE and Ruler of Dubai, on October 21, at Etihad Museum under the theme "Through Space we Flourish".
Explore Mars Competition targets university undergraduate students in science or engineering disciplines. The students will need to propose an innovative mission design to Mars and highlight a novel approach in either engineering design or in the science mission. The competition is geared towards identifying and solving a scientific or engineering challenge in planetary exploration.
The competition is divided into two categories, the first is focused on introducing a scientific project, and the second focuses on developing an idea to design a mission to Mars. Students who are interested in the first category about Mars Science can suggest a topic related to the Martian atmosphere or Mars geology. Furthermore, in Mars mission category, topics can address unique concepts and designs for space missions to Mars, new designs for scientific instruments for Mars science, or innovative spacecraft.
MBRSC Science Event is a scientific and educational initiative for the education, science and technology sectors in the country. It aims to develop national capacity and capability in space science, engineering and research by providing a platform that brings together students, experts and decision-makers in the country to discuss the UAE's directions and the accomplishments. The Event will also offer scientific and technological workshops and awareness activities to nurture a culture of research and development for future generations, reflecting the UAE's strategic objectives for the sector and building a generation of scientists and engineers.