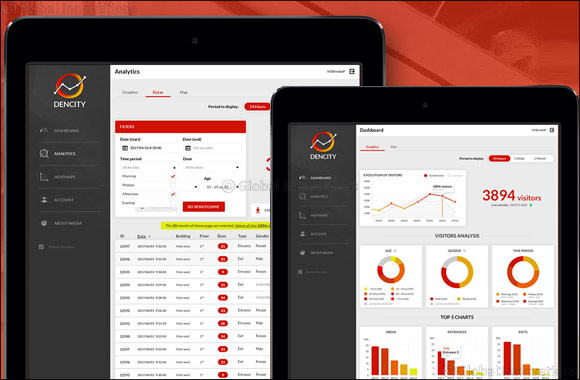 Optimize customer experience in shops and shopping malls
Based on Artificial Intelligence and Machine Learning, Dencity is a traffic analysis solution for shopping malls and retailers. It is structured around 3 modules:
a characterization module to detect demographic criteria (age/gender) and to count people
a behavior module to provide information about people flow (footprint, heat maps, etc)
an analysis module to visualize the data on a reporting platform
The goal is to recover a new type of data linked to people behavior inside shopping areas. Retailers will be able to connect these data to their sales information, using Big Data algorithms, to improve their customer knowledge and enhance the visitor experience.
Dencity uses images extracted from video streams to analyze every visitor without any technological limit. If we compare to Wi-fi or Bluetooth for example, it necessitates people to turn on or to download some tools.
Every person visible on a video can be analyzed by Dencity, and the data about this shopper is directly available for retailers via the analytic platform.
We chose to focus our work on the customer experience in shops and malls.
We want to provide a better understanding of the customers behavior and new ways to interact with them.
- FRÉDÉRIC SOMMERLAT,
CEO WASSA