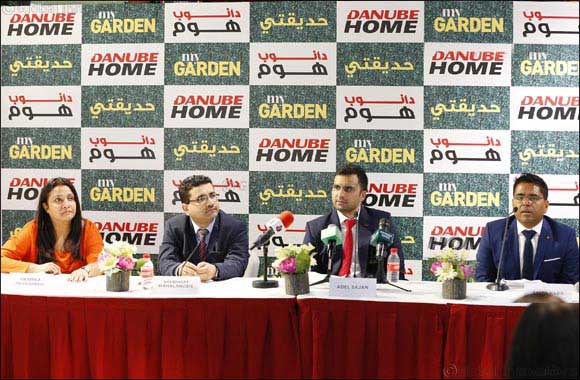 Dubai, UAE, October 3, 2017:​ Danube Home, the UAE's leading home interior and décor brand announced its exclusive Garden Collection 2018 on 2nd of October 2017 at its Sheikh Zayed Road store. The new collection is inspired by 'The World' to create a garden that complements your property. The products are exclusively designed to help you to find solace in the sanctum that is nature. As part of the new launch, a new 2018/19 catalog was introduced, which is an 88-page, full-color book features more than 1500 items serving as a complete resource guide for outdoor furniture and accessories.
Whether you are looking to create a bold & bright Arabian spirit, a rustic romance of France, an exotic Indian inspiration, Egyptian allure or an artistic Italian touch courtyard you will find all at one store. Moreover, the collection also includes a number of bold and vibrant products such as outdoor sofas, swings, barbecue sets, outdoor lights, outdoor umbrellas, fountains, cushions, lamps, lanterns, cushions, rugs, Gazebos and much more; solely directed to enhancing garden spaces.
Commenting on the new launch, Adel Sajan, Director of Danube Group, said," We are pleased to announce our new garden collection across all Danube Home stores. Additionally, we have launched our new catalog which is inspiring, informative and packed with detailed product descriptions and handy tips on subjects including the benefits of artificial grass carpet, ideas to look after wicker furniture, how to maintain outdoor furniture and cleaning hacks etc. to help customers make more out of their space by offering multifunctional and modular solutions. I would like to thanks my team for the hard work they all have put in to bring the best to all of you and that too with a pocket-friendly price."
He further added: "The basic mantra for us at Danube Home is to 2bring the garden products that will bring you close to nature and helps you to rejuvenate at your own leisure time. I think the natural-looking garden ponds with small waterfalls and streams add an element of freshness and the bold and bright shades of the products will give an additional glamorous look and feel. So, I welcome all of you to come and experience our new garden product ranges which are exclusively designed for you."
Sayed Habib, GM-Business Development, Danube Home said: "We have a diverse culture in the UAE and we will find people from all over the world. At Danube Home, we make sure to cater to the choice of every nationality and hence you will find a complete product portfolio which is inspired by 'The World'. We have done a thorough research before picking up the products, to make sure that you get the best product range from every corner of the world."
Furthermore, another interesting feature at Danube Home is the free interior design services that can be availed at all the stores by simply bringing the floor plans of their home.