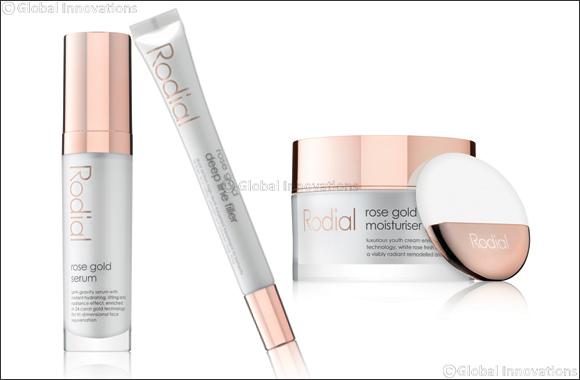 ** Rodial launches its Rose Gold skincare collection in the UAE**
Rose Gold has been the memorable metallic colour of the year, adding a touch of luxury to various things in our lives such as makeup, accessories, mobile phones and even home interiors. Rodial has decided to jump on the bandwagon and launched its most luxurious skincare range to date in Rose Gold – featuring three new high-performance products that promise to reshape and rejuvenate the skin.
Rose Gold Deep Line Filler (AED 595)
A dual-action treatment that visibly reduces fine lines and smoothes out deep wrinkles over time. Designed with 24-Carat Gold and Nano-Peptides technology – which stimulates cell turn over, boosts collagen production and gives the skin a healthy glow. The lightweight treatment also contains Progeline, which works to improve skin texture and increases its firmness – revealing softer and younger looking skin.
Rose Gold Serum (AED 1,295)
A triple action serum that instantly lifts, hydrates and boosts skin radiance. Infused with 24 Carat Gold extract and Hyaluronic Acid, which actively smoothes out vertical and horizontal wrinkles as well as boost the skin hydration levels. The anti-gravity serum contains a skin-tightening complex that provides an instant lifting effect. It also contains White Rose fresh cells, which help boost skin surface renewal revealing brighter looking complexion.
Rose Gold Moisturiser (AED 1,195)
A luxurious cream enriched in 24 Carat Gold technology, White Rose fresh cells and Vitamin C – for visibly structured and nourished skin. This powerful cocktail of ingredients deeply hydrates, brightens the skin and softens the look of vertical and horizontal lines. It also improves skin elasticity, firmness and enhances the natural contours of the face – giving a visibly youthful and lifted effect.