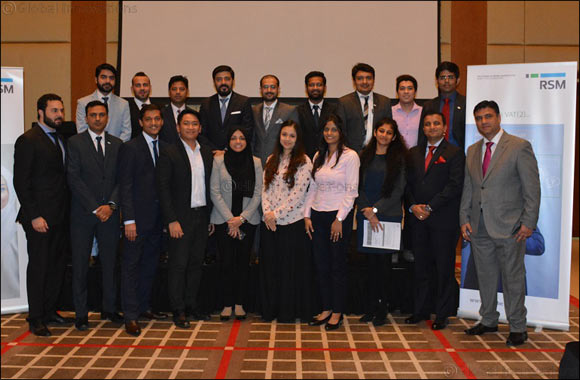 RSM provides the most in-depth look into the legislation of Value Added Tax in the UAE
Dubai, United Arab Emirates, 2 October 2017: RSM UAE, an Audit and Tax Advisory Firm with a world-wide outreach, introduced the nitty-gritty of VAT in the UAE at a detailed workshop on 28 September 2017 at The Oberoi Hotel, Dubai. Diving into the causes, origins, and effects of this seemingly simple 5% markup, RSM provided the most detailed technical sessions regarding VAT and its implications on various sectors, individuals, and even special cases surrounding the tax which are not explicitly clear.
An event graced by media, business persons, and delegates from various industries, the event covered the topics of businesses as tax collectors, payers, and the 5 W's of VAT as an overview on all the important tidbits on information relevant to business owners and high net worth individuals in the country. Furthermore, Baasab Deyb and Rakesh Pardasani, partners at RSM and key expert speakers at the workshop, provided niche information such as that about the Law No. (8) of 2017 on VAT, the scope of the tax, taxable persons, sector-wise tax implications and the invoice, returns and standard procedures of VAT to be followed.
As VAT is an indirect tax paid by the consumers, theoretically, it should not have any repercussions for businesses, but businesses are the ones to collect and pay the tax along the supply chain until the point of sale. Thus, businesses do have motive to be worried about impact of VAT in terms of cash requirements, record keeping and administration of effective VAT systems to avoid financial and non-financial penalties from Federal Tax Authority.
Baasab Deyb, Partner, RSM, said, "The UAE market is seeking lots of clarity in respect of the upcoming implementation of UAE VAT Laws. Workshop like this would assist in bringing more clearer understanding of the law and its underlying implications on the businesses"
Rakesh Pardasani, Partner, RSM, said, "On most businesses, VAT is only going to be a compliance cost. But proper record keeping and systems are key if businesses are to avoid the unnecessary fines and penalties for non-compliance. We were getting a lot of questions from our clients around the applicability and requirements for VAT and we thought it would be best to address these through a detailed workshop."
RSM is driven to provide the most profitable and effective solutions to industry problems and give the most research perspectives on VAT, Excise and more through its conferences, seminars and consultancy services.