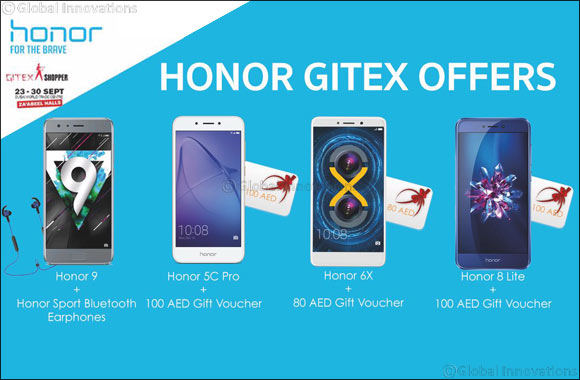 Get great deals for the beautifully brilliant Honor 9 as well as other radiant Honor products GITEX 2017
Dubai, UAE, September 30, 2017: Honor the leading smartphone e-brand under the Huawei Group takes part at GITEX 2017.
Honor will be celebrating its first brand day at Gitex where they will be offering their fans their flagship of the year, Honor 9, along with competitive giveaways and attractive prices of all the most wanted honor's brand portfolio.
Honor's new business model is nothing like ever before, the model is designed to fill the wants and needs of every digital native. Honor endeavours to focus on its consumers, offering all the things a digital native expects in a phone and more, which in turn instils the online honor gene.
Honor 9's abundant benefits cater to the young at heart and the tech-savvy. Honor 9 offers a stunning design from every angle, fierce performance, great quality and the best choice for every millennial.
"Gitex Shopper has always been a great platform and Launchpad for key products in the consumer electronics industry in the region. We pride ourselves on being able to deliver cutting-edge technology that our users can use to ignite their creativity and full potential. With Gitex Shopper, consumers are also able to experience our products physically rather than just online. We look forward to seeing and hearing the reactions on the floor and we expect great responses as we do believe in our users and our products. When our customers buy honor products, they don't just make a purchase like any other brand. Honor believes in giving back to its consumers and cultivating relationships with them, and that's why we cooperated with all the retailers to give our customers exciting offers." said Chris Sun Baigong, Vice President of honor.
If you aren't looking for the newest model of Honor, there are also other versions of Honor at unbeatable prices and deals during our brand week beginning of October.
Honor's offers include: Honor 9 at AED1999 + 100 GV + honor Bluetooth earphone, Honor 8 Lite at AED799 + gift voucher for AED100, Honor 6X at AED869 + gift voucher for AED80, and 5C Pro at AED699 + gift voucher for AED100. This is honor's brand day to celebrate its fans and so they have decided to portray their brand by handing away more gifts with each purchase, like tp-link wireless routers, power-banks and more from honor's distributors and retailers.
What's more is that Honor will be hosting an even bigger brand week in October, and they will cooperate with more prestigious partners, like Zomato, Careem, Gameloft, JollyChic.com and many more to give their fans deals and benefits when they purchase Honor smartphones that are specifically tailored to the users' needs and benefits them.