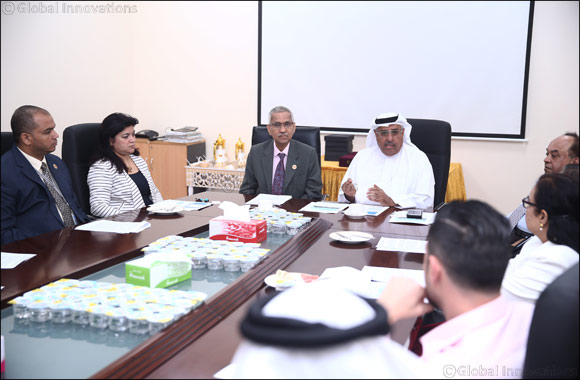 Dubai, UAE, September 27, 2017: On 28th September & 5th October 2017, 293 of our students from Medical, Dental, Pharmacy, Nursing and RN-BSN Bridge programs (79 from Medical; 57 from Dental; 55 from Pharmacy (47 - B Pharm; 06 - MS Clinical Pharmacy; 02 - MS Pharmaceutical Chemistry) and 102 from Nursing (21 - BSN, 64 - RN-BSN, 17 - MSN), are graduating and waiting to receive their Degree Certificates from His Highness Sheikh Saud Bin Saqr Al Qasimi, Supreme Council Member and Ruler of Ras Al Khaimah, and Chancellor of the RAKMHSU.
With the support from His Highness, Ministry of Health (MOH) and Ministry of Education (MOHE), RAKMHSU has grown from strength to strength in the last 12 years. RAKMHSU has become a place of not only academic reputation but also of cultural integration. We are known for our absolutely honest and transparent administration with a willingness to improve.
We are happy to share with you that in the year 2006, we started with just 22 students and now, RAKMHSU has 1300 plus students hailing from 50 Nationalities. Similarly we have 109 Teaching faculty, 118 Adjunct Clinical faculty and 102 Non-teaching staff hailing from 32 nationalities. In terms of physical facilities, we have the University building with a built up area of 216,000 sft, with all the state of the art facilities including an independent building for RAKCODS. Keeping in view the fast growth of the University, already one additional academic block for the Pharmacy and Nursing Colleges with a total built up area of 96,000 sft and a separate sports complex in 21,000 sft have already been completed and fully commissioned.
RAKMHSU campus with overall facilities available in the campus are 21 Lecture halls, 12 PBL rooms, One research central lab, Computer labs with 260 computers, 8 medical labs, 9 pharmacy labs, 4 nursing labs, 3 conference rooms, 137 University offices, Fully updated Central Library, auditorium with a capacity of 650 seats, and a sports complex with all the amenities to cater sports events like football (outdoor & indoor), basketball, badminton, tennis, volleyball, table tennis and billiards in addition to separate Gym facilities for Male and female.
RAKMHSU is really pleased with the achievements of our students not only academically, but also in extra-curricular activities. We are proud that many of our students have bagged several awards in various competitions including sports and research conferences. 50 of our Medical graduates got admitted to the Residency programs in Dubai and Abu Dhabi, which is a clear reflection of the quality of education. More than 500 Bachelors and Masters Nursing graduates got their placement or promotions in their existing positions in various hospitals of UAE.
In addition, our Master's nursing program with different specialties, Adult Health Nursing, Pediatric Nursing, Community Health Nursing, and Psychiatric-Mental Health Nursing graduates are the Directors of Nursing in most of MOHAP hospitals in RAK and few in other Emirates. All our Undergraduate and Graduate programs are fully accredited by the Commission for Academic Accreditation.
Graduates from RAK College of Dental Sciences have completed their evaluation by passing Abu Dhabi Health Authority, Dubai Health Authority and Ministry of Health, UAE examination and are practicing in public and private sectors in UAE and abroad. Students and interns have performed 18,643 free dental procedures in different dental disciplines with patients of various nationalities during the academic year 2016-17.
RAKMHSU is also listed in the AVICENNA Directory (formerly the WHO), which will help our students to appear for USMLE, PLAB and other international qualifying examinations for higher studies. The Bachelor of Dental Sciences is also enlisted with Emro, WHO and the clinical training of RAK College of Dental Sciences (RAKCODS) is recognized by MFDS Examination of Royal College of Surgeons in Ireland.
On this auspicious and happy occasion, we express our gratefulness to our Highness for having guided us at every stage of growth of RAKMHSU. I also take this opportunity to extend our heartfelt gratitude and appreciation to His Highness for his kindness in offering full scholarships to the National students through Sheikh Saqr Program for Government Excellence (SSPGE). In fact, a total of 46.58 million dirhams have been reimbursed through different sponsorships through SSPGE and other sponsorships including Merit Scholarships from RAKMHSU.
We are thankful to the Ministry of Health for not only allowing RAKMHSU to utilize the Federal hospitals both in Ras Al Khaimah, Dubai and Fujairah, but also for sponsoring the National students for the Nursing programs BSN, RN-BSN Bridge program MSN conversion programs. We are grateful to His Excellency Abdul Rahman Mohammed Al Owais, Minister of Health; Dr. Mohammad Salim Al Olama, Undersecretary, Ministry of Health; and Dr. Yasser E.H. Al Nuaimi, Advisor, Ministry of Health, who is closely associated with us from the beginning; and Dr. Abdulla Al Nuaimi, Director of RAK Medical District, Ministry of Health.
We are extremely grateful to His Excellency Dr. Ahmad bin Abdulla Humaid Belhoul Al Falasi, Honorable Minister of Education – Higher Education Affairs. Dr. Badr Aboul-Ela and all the members of The Commission for Academic Accreditation and other team members of the Ministry of Higher Education & Scientific Research. The CAA under the leadership of Dr. Badr Aboul-Ela, has been continuously guiding us with very valuable suggestions, which helped RAKMHSU immensely to match the International quality.
I would like to acknowledge the contribution from the Chief Academic Officer Dr. Debadatta Panigrahi and all the Deans of both Colleges and University, and all the other faculty, who with their untiring efforts have played a major role in shaping the future of the students by maintaining international quality not only in academic programs but also for taking the initiatives in various research activities including the Student Research Scientific Conference. This year for the Student Scientific Conference around 35 research projects were presented in oral and poster category, the best 16 of them were awarded.
DUPHAT is a premier Pharmaceutical and Technology event in the Middle East. The most prestigious pharmacy annual (DUPHAT) Dubai International Pharmaceuticals & Technologies Conference. 20 posters were presented by RAKCOPS at the conference. The students made RAKCOPS & RAKMHSU proud by bagging 04 awards in the innovation, presentation, quality and professional categories.
In fact, our faculty have published more than 288 Research articles in various National and International Journals. Until now, 351 student research projects were guided.
We are proud of our faculty as well as our students who are holding the flag of RAKMHSU in high esteem.