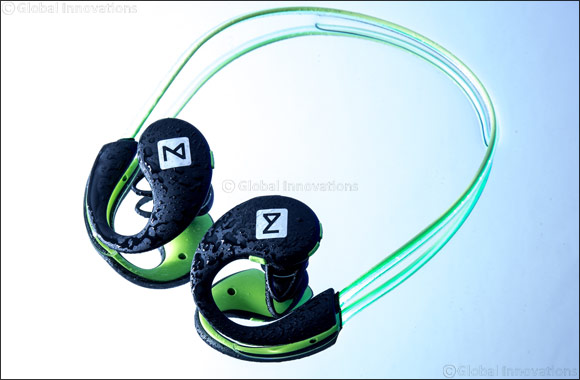 DUBAI – September 26, 2017: ZAKK, a global lifestyle brand under Kamon International, has launched Zakk Firefly in the UAE, a Bluetooth Headset with an LED light cable. The Firefly offers perfect safety features for fitness enthusiasts who like to run at night. The Firefly's rechargeable LED light provides an added layer of safety from vehicles and other objects due to its enhanced visibility in the dark.
ZAKK is a global lifestyle brand aimed to enhance the experiences and lives of people from multi-cultural backgrounds.
The ZAKK Firefly headset provides quality sound with ultimate expression, powered by its LED light cable which can light up to three different modes - fast flash, medium flash and continuously stay on.
The device is equipped with a sweat-proof coating and can connect with up to two phones simultaneously. The Firefly's built-in microphone also enables a hands-free talk time of up to seven hours or, five hours of glowing time for the bright LED light cable. In addition, the product has the capacity for five hours of playing music with four hours of glowing time.
Commenting on the launch of the Firefly headset, Karan Saini, Head of Marketing at ZAKK said, "The launch of ZAKK Firefly in the UAE complements the lifestyles of fitness-savvy and health-conscious individuals. The Firefly has been designed to perfectly blend the essential requirements of security, technology and lifestyle elements."
"Our vision is to make technology readily and easily accessible to everyone. We also believe that enjoying technology should not be too expensive and complicated," he added.
The Firefly headphone is available in black and green colors and features an 85 mAh battery. The Bluetooth v4.1 connectivity covers a range of up to 10 meters, making the device even more useful and versatile. The fact that it can be connected with two cell phones at the same time makes it score high on the utility aspect. This smart device meets the requirements of athletes for battery life and visibility more than adequately.
Offering value for money the ZAKK Firefly LED Bluetooth headphone is attractively priced at AED 99.
The ZAKK brand has more than 100 products - ranging from wearable devices such as smart watches, health bands and bluetooth devices, to headphones, earphones, speakers, projectors, virtual reality headsets, power banks and storage devices.
All ZAKK products start their life cycle in Dubai. It is during this process that ZAKK products are rigorously tested before being passed on to its manufacturing units in China, India, South Korea and Taiwan.