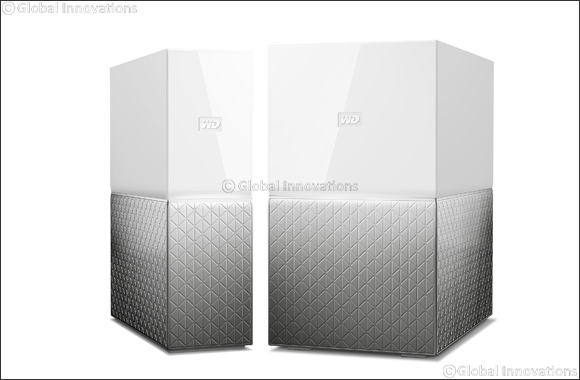 My Cloud Home Storage device launched to help consumers save all digital content in one place and easily share and access it from a Smartphone App
SanDisk iXpand Base unveiled to help iPhone users back up their data effortlessly
24th September 2017, Dubai, U.A.E.: WESTERN Digital Corporation is showcasing their market leading range of storage technology at the 37th edition of GITEX 2017. From 23-30 September, visitors will have access to state-of-the-art storage devices from Western Digital at exciting deals. Today, Western Digital also announced the launch of the WD My Cloud Home Storage device which plugs directly into Wi-Fi router at home helping users save all digital content in one central place. In addition, the company also unveiled SanDisk iXpand Base, which is especially made for iPhone and automatically backs up photos, videos & contacts while the phone is kept on charging mode.
Apart from WD My Cloud Home and SanDisk iXpand Base, consumers will be able to get incredible deals on capacity breakthrough Western Digital products such as the WD My Passport SSD, SanDisk Ultra microSD card with A1 SD specifications and SanDisk 400 GB Micro SD- the world's highest-capacity microSD card for use in mobile devices.
"We are excited to launch the WD My Cloud Home, a new personal cloud storage solution that empowers consumers to take control of their often-scattered digital content. With the My Cloud Home solution, consumers can easily aggregate all of their photos, videos and files from their smart phones, computers, USB storage, cloud and social media accounts in one central place. Using their smart phone, tablet or computer from anywhere with an internet connection, consumers then are free to experience and share that content with family and friends", said Tareq Husseini, Regional Sales Director, Middle East & Africa, Western Digital Corporation.
Global data storage technology and solutions leader, Western Digital continues to push technology boundaries and transform the way consumers use their mobile devices.
"We are very enthusiastic to also unveil SanDisk iXpand Base, a device specially made for iPhone, allowing users to you to preserve all memories in good quality while they charge the phone on a daily basis. We are proud to present our latest range of storage innovations at the region's most accessible and premier technology exhibition. By focusing on achieving new technology milestones, we enable consumers to keep up with their mobile-centric lifestyles with storage solutions they trust. We strive to add convenience and ease of use to our customers, and the largest storage space available to help them keep their memories and all their photos, videos and all files from their smart phone and computer devices", added Husseini.
During Gitex Shopper 2017, consumers will get easy access to path-breaking Western Digital and SanDisk products that are designed keeping in mind the needs to today's tech-savvy users.
Key products that will be showcased during Gitex Shopper include:
WD My Cloud Home
WD My Cloud Home storage device provides the space that you need to make your memories, photos, videos and files, last forever in the comfort and safety of your home. Users can automatically back up the photos and videos on their phone, and wirelessly back up and sync PC and Mac computers and cloud accounts. Consumers can access the device from their phones, tablets, computers and external storage devices, and even stream videos saved on your My Cloud Home device anywhere you have an internet connection.
SanDisk iXpand Base:
SanDisk iXpand ensures users never have to worry about losing their phone memories again. Every time you charge iPhone with the iXpand Base, it automatically backs up photos, videos and contacts for you offering plenty of room to save files in their original quality with no worry about recurring monthly fees for Internet-based storage. Designed for everyday use with a soft rubber top, a sturdy base, and a wrap-around groove to keep your Apple Lightning cable tidy. The iXpand Base is also engineered for convenience, delivering fast-charging with 15W of power and a companion app for backing up and restoring your content to your iPhone.
WD My Passport SSD
Secured with password protection with hardware encryption, WD My Passport SSD is portable storage with blazing-fast transfers. It provides its consumers with a cool and durable design, compact storage, and ease of use. It is also the fastest My Passport drive to date with speeds up to 515MB/s using the USB Type-C port to rapidly transfer data. Its speed gives great performance to help run virtual machines on your computer.
SanDisk 400 GB Micro SD
SanDisk just unveiled the world's highest-capacity microSD card for use in mobile devices. Two years after introducing its record-breaking 200GB* SanDisk Ultra microSDXC card, Western Digital has doubled the capacity within the same tiny form factor. Keeping up with the demands of today's mobile-centric lifestyle, the new SanDisk microSD card provides consumers with the freedom to capture, save and share photos, videos and apps, and enjoy offline content - all without worrying about storage limitations.
SanDisk Ultra microSD card with A1 SD specifications
The SanDisk Ultra microSD card with A1 is compatible with the SanDisk® Memory Zone app for Android™, giving users an easy way to manage and back up content on their device. The app is available for free through the Google Play™. It is the world's first microSDTM card that meets the Application Performance Class 1 (A1) requirements from the latest SD Association's SD 5.1 specifications. By meeting the A1 performance standard, the 256GB SanDisk Ultra® microSDXCTM UHS-I card, Premium Edition, delivers capacity, speed and enhanced capability to deliver a better smartphone experience1.