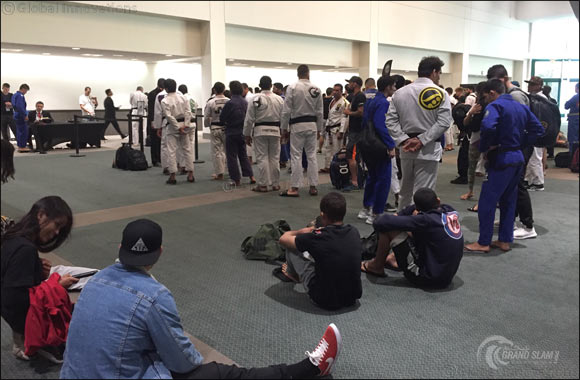 Dubai, UAE, September 23, 2017: The UAE Jiu-Jitsu Federation®, the official authority for the sport of Jiu-Jitsu in the United Arab Emirates, conducted the official Weigh-ins today at the Los Angeles Convention Center, ahead of the Abu Dhabi Grand Slam® | Los Angeles.
The Jiu-Jitsu club players from the UAE: Al-Ain, Al Wahda, Al Jazira and Al Nasr made weight ahead of their fights and the black belt players Igor Silva, Adam Wardzinski, Jaime Canuto, Renato Canuto, Sergio Rios, Fernando Tsushima, Victor Silverio, Nathiely Ribeiro, Jessica Dos Santos, Ana Srour, Mario Silva and many others made weight ahead of their highly anticipated fights.
Rorion Gracie, oldest son of Helio Gracie, who holds a ninth degree red belt and also the co-founder of UFC [Ultimate Fighting Championship] had a message for the participants ahead of the competition– "train hard, be patient, keep healthy, as you always have to maintain a healthy lifestyle to keep on improving your jiu-jitsu skills. The UAE Jiu-Jitsu Federation has been doing incredible work over the past years and I can't wait to come to Abu Dhabi"
Rener Gracie, the son of Rorion Gracie said "to all the people who train, or love Jiu-Jitsu in the UAE, you don't know how privileged you are in a country that has prioritized the training of Jiu-Jitsu, I would love to have that in my country here and if you are ever in America visiting, please come join me at the Gracie Academy, train with us, we would love to share the mat with you. I wish the best of luck to all the participants tomorrow at the Grand Slam and I look forward to be there at the event"
MEDIA ACCREDITATION
Fight media credentials can be picked up on Saturday, 23rd September from 10am at the Los Angeles Convention Center, Hall C. Proper personal photo ID is required for credential pick-up.