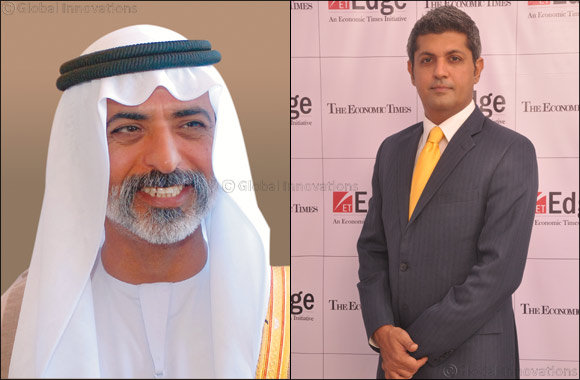 Dubai, UAE, September 23, 2017: With India and the UAE forging strategic ties across a spectrum of shared interests, this is an opportune time for key stakeholders from both nations to engage in strategic discussions and catalyze economic growth. It is in this context that The Economic Times India UAE Strategic Conclave is being held in Dubai on 27th and 28th September under the patronage and in the presence of His Excellency Sheikh Nahyan Bin Mubarak Al Nahyan, Cabinet Member and Minister of Culture and Knowledge Development, UAE, seeks to give a further fillip to India-UAE bilateral relations.
Trade and commerce forms the backbone of historically strong bilateral relations, with India being UAE's top foreign trade partner. In 2015-16, India exported goods worth $30 billion to the UAE with heavy machinery, petroleum products, and food and dairy products being the main export commodities. Indian businesses have equally established a strong footprint in the UAE. 4365 Indian commercial companies are registered with the UAE Ministry of Economy, as of end-2016 and over 2.8 million Indians reside in the UAE.
Prime Minister Narendra Modi's landmark trip to the United Arab Emirates in August 2015 and the recent return visit of Sheikh Mohammed bin Zayed Al Nahyan, Crown Prince of Abu Dhabi and Deputy Supreme Commander of the UAE Armed Forces, served to further fortify bilateral ties between India and UAE, leading to a long-term and stable strategic partnership.
Commenting on the significance of the Conclave, Deepak Lamba, President, Times Strategic Solutions, said, "At The Economic Times, we have closely evaluated the full spectrum of relationships between India and UAE and we strongly feel that this association will act as a significant contributor to the economic progress of the region. Hence, we have designed this conclave to discuss the potential areas of investment, collaborations and ways to further improve the business environment."
Through continuous engagement from Ministries, Government Departments and industry veterans like H.E. Navdeep Suri, Honorable Indian Ambassador to UAE; H.E. Suhail Mahmoud Al Ansari, Executive Director, Mubadala Healthcare; H.E. Capt. Mohamed Al Shamisi, CEO, Abu Dhabi Ports; Dr. Tayeb Kamali,Chairman, Emirates Driving Company and Former Vice Chancellor, Higher Colleges of Technology, UAE; Harsh Mariwala, Chairman, Marico; Gautam Singhania, MD, Raymond; and Rana Kapoor, Founder & CEO, YES Bank and Chairman, YES Global Institute, in addition to more doyens from diverse spheres. Moreover, the conclave will aim to identify potential areas of investment and collaborations between India-UAE, thus helping to drive landmark projects in the region.
The Conclave will focus on areas that should be tapped for growth. This includes matters of defence, energy, security and maritime trade, among other issues. Another significant pillar of India-UAE ties that will be discussed is the geopolitical and economic impact of strong India-UAE relations on the Asian region. Given the current state of flux in West Asia, both countries can be critical drivers to maintain peace and stability in the region. The Conclave will also announce the launch of the second edition of the Economic Times Best Asian Healthcare Brands coffee table book in India. During the event, the leading healthcare brands from Asia, across various segments will be felicitated and featured in the coffee table book.
List of speakers:
Harsh Mariwala, Chairman, Marico
Gautam Singhania, MD, Raymond
CP Gurnani, MD & CEO, Tech Mahindra
K Ramchand, Group CEO, IL&FS
Ravi Khanna, CEO, Aditya Birla Solar
Rajiv Agarwal, MD & CEO, Essar Ports
Jayant Mhaiskar, Vice Chairman & MD, MEP Infrastructure
Rana Kapoor, Founder & CEO, YES Bank and Chairman, YES Global Institute