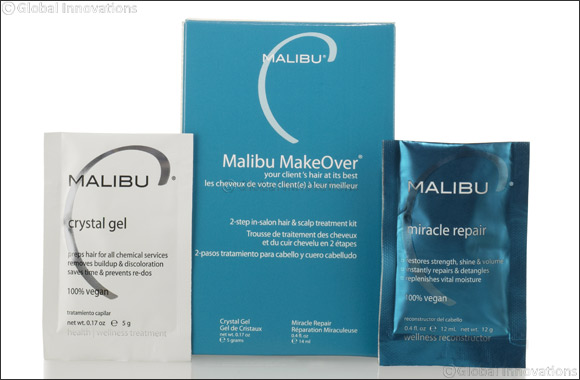 Get to know the extraordinary science and story behind Malibu C; the vitamin-infused product range from California that promises healthy hair.
Dubai, UAE, September 23, 2017: Long before natural beauty products became a trend, Malibu C® Founders Tom and Deb Porter were pioneers of wellness solutions based in science. In fact, they were the first company to develop and market antioxidant beauty products with Vitamins C and E for the hair and scalp
For Malibu C®, beauty and wellness are one and the same.
Founder Tom believes that, "everyone showering in water needs to use Malibu C" – and that's because what's in your shower water is often the culprit of many common issues for the hair, and scalp. Especially in the UAE, the water is packed with minerals and chemicals that wreak havoc on the hair and causes issues: colours fade, poor grey coverage, brassy blondes, ashy hues, stubborn dandruff, dull and damaged ends and even hair loss.
Today, Malibu C®'s patented salon and in-home treatments - each packed with a unique formulation of freshly activated vitamins, phyto-nutrients and key botanicals - are essentials for stylists and salons around the globe. At the heart of the range is the Malibu C® Makeover Hair Detox which features the 'pack of purity' – the Crystal Gel. With a patented blend of antioxidant vitamin C crystals, it naturally cleanses and primes the hair.
As it's not about what we put on your hair, it's about what we take off your hair.
The Malibu C® Makeover Hair Detox is designed to act as a deep cleansing treatment that gently and naturally removes unwanted chlorine, & other hard water mineral deposits from the hair and scalp. The detox treatment will make the hair shinier, more manageable, healthier and guarantees any colour to look more vibrant and last longer.
Ask your hairstylist for the Malibu C® Makeover Hair Detox and enjoy the benefits of a clean and chlorine-free hair.
About Malibu C®
The core of the Malibu C® Wellness Beauty Collection is a selection of customized Wellness Hair Remedies. These signature sachets incorporate revolutionary ingredient technologies featuring a patented, freshly-activated crystallized vitamin complex comprised of the purest, most potent form of Vitamin C for optimal results. It is a solution-driven brand that is based in science and serves as a vision of simplicity, yet still maintain an elegant, luxurious aesthetic that is representative of true prestige in the Professional Salon/Spa Industry. Malibu C® is exclusively distributed in the UAE by VIVANDI Trading LLC. The Malibu C® Makeover Hair Detox is available in major salons in the UAE.