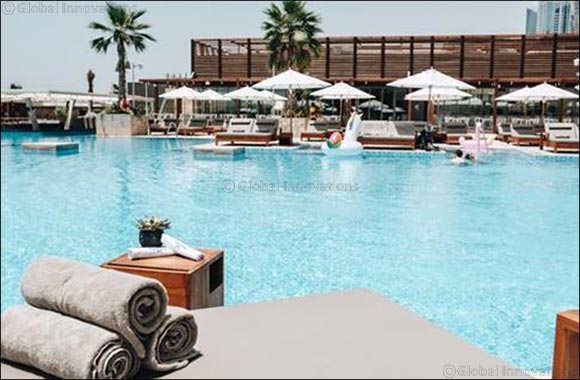 Dubai, UAE, September 20, 2017: In a city where sun and sand reign supreme and you can enjoy outdoor living for more than nine months of the year, Dubai welcomes Azure Beach, a new Mediterranean-inspired beach destination, to its infamous collection of shore side hang-outs, having officially opened its doors on the 26 June 2017.
Opening in the highly anticipated Rixos Premium Dubai JBR, the Rixos's second property in Dubai, Azure Beach will cater to both tenants of the Rixos Residences and esteemed hotel guests, complementing the exceptional services and world class hospitality that will truly set the destination apart from other beach side experiences in the city.
"Azure Beach will offer its guests a stylish and sophisticated destination for a day of relaxation and rejuvenation with its tranquil and refreshing facilities; a world away from Dubai's busy street life," said James Burton, Managing Director, Azure Beach. "The venue oozes Mediterranean charm, catering to the wide mix of expats, families, business travelers and Emiratis that make up its bustling streets."
With a breathtaking backdrop of the Arabian Sea, Azure Beach is conveniently located in Jumeirah Beach Residences Walk within easy reach of both Dubai Marina and JLT. Offering a range of poolside facilities, guests can relax and unwind whilst dreaming of the Mediterranean. From a tranquil poolside lounge area to a chic chill out shisha terrace where the guests can sit back and enjoy the stunning sunset and surrounding views, an infinity pool adorned with private island beds and secluded sandy beach area a stone's throw from the ocean's shore. Offering every comfort for both adults and little ones, the fun-filled kid's club offers a host of activities including arts and crafts, while parents can take a dip in the stunning infinity pool and soak up the iconic views of the world's largest observation wheel, Ain Dubai, and the iconic Palm Jumeirah. Order a freshly prepared dish off the Asian fusion inspired menu, from fresh seafood ceviche to mouthwatering sushi and kick back while enjoying the calming sights and sounds of the sea's waves.
"Azure Beach adds a uniquely Mediterranean feel to Dubai's popular beachside residences, inviting guests to step through its doors and be instantly transported to the European coastline. Finding inimitable ways of creating meaningful experiences for its guests, Azure Beach offers something for the whole family, from a beautiful pool side lounge to a selection of kiddy activities at the unbeatable kid's club," said Antonio Gonzalez, CEO, Sunset Group, the hospitality group bringing the concept to the Emirate.