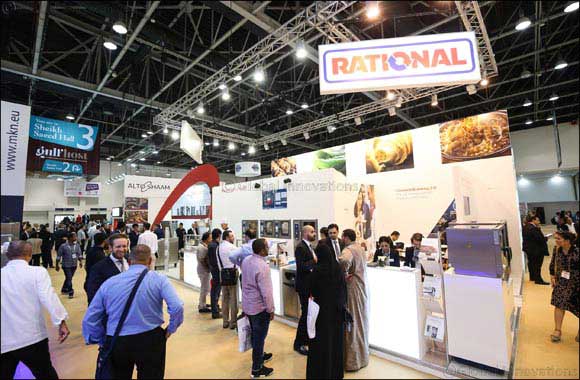 India's F&B market predicted to be worth US $121 billion by 2021
GulfHost 2017 provides gateway for the world's industry buyers and suppliers
Dubai, UAE, September 20, 2017: India's vibrant food and beverage industry has witnessed unprecedented growth in recent years, and is expected to be worth US$ 121 billion by 2021 according to Euromonitor International. Recognising the potential in investment and development across India, GulfHost 2017, hosted in Dubai until 20th September, brings together hospitality professionals from across the globe, including a large number of India's senior buyers.
GulfHost 2017 is the first dedicated hospitality and food service expo in the Middle East, with a dedicated portfolio of hospitality and catering equipment solutions for both front and back of house, and bar and counter. Taking place during Dubai International Hospitality Week (DIHW), the show brings together more than 2,000 of the world's top hospitality brands and is expected to attract 50,000 visitors.
Major foodservice players are drawn to the UAE thanks to its positive long-term outlook, according to Euromonitor International. To mark the launch of Dubai International Hospitality Week, hundreds of senior buyers from major global brands around the world are being formally hosted at this central location, between east and west markets, promoting essential collaboration and commerce in the run up to Dubai World Expo 2020. A number of senior buyers from India are taking as part in the GulfHost Meetings Programme that facilitates top level business matchmaking.
"This year's attendance from India is very positive, presenting a great opportunity for countries across the world who are looking for opportunities to invest in India's growing F&B industry. The inaugural GulfHost 2017 is the biggest hospitality show in the Middle East, and its Dubai location means it is perfectly positioned between markets, providing a unique occasion to tap into a market which is witnessing substantial growth," said Trixie LohMirmand, Senior Vice President, Exhibitions & Events Management (DWTC). "At the same time, India's F&B suppliers are looking to expand their business opportunities beyond their home country, and GulfHost presents an ideal platform to showcase their products to the Middle East's industry buyers."
India is one of 16 country pavilions at GulfHost, and joins other key supplier countries from Italy, Spain, UK, France, Germany, Portugal, Turkey, Greece, China, Korea, Taiwan, Lebanon, Australia, Netherlands and Egypt.
Exhibitors from India are showcasing the latest and most innovative equipment for front of house, back of house and bar and counter, including manufacturers and exporters of stainless steel kitchen equipment, utensils, table wares, such as Manek Metal Industries, Pradeep Stainless India Pvt Ltd and Sharda Corporation, and leading manufacturers of food service products and commercial kitchen fittings such as Arjan Imex and Besteklova India.
Silvia Tonon, Head of Marketing for GulfHost exhibitor Irinox explains; "It's evident that India's booming economy will continue to bring opportunities to the hospitality industry, not only in the east, but across the world. While we are based in Italy, our products are world-leading and distributed to 80 countries worldwide. Our vision is for our blast chillers to be in every artisan and industrial kitchen, which means we are focused on finding ways to meet geographical demand."
Venus HotelWare has operated out of India for more than five decades, servicing markets around the globe and supplying stainless steel within the hospitality industry. Gagan Kumar, merchandiser at Venus HotelWare Pvt. Ltd, said: "We have always operated out of India with a truly global approach to everything we do. As India's economy and hospitality industry grows we are seeing more opportunities to connect with buyers from east and west markets, and of course GulfHost provides an excellent opportunity for us to do so."
GulfHost 2017 is co-located with five other shows; yummex Middle East (jointly organised by DWTC and Kölnmesse) SEAFEX Middle East and Speciality Food Festival (organised by DWTC) and The Hotel Show and The Leisure Show (which are owned and organised by dmg events).
All shows are open until 20 September 2017 and are for trade and business professionals only. General public and persons under the age of 21 will not be permitted entry. Registration will also be available at the show upon proof of trade status. One pass provides free access to all six trade shows across Dubai International Hospitality Week (DIHW).