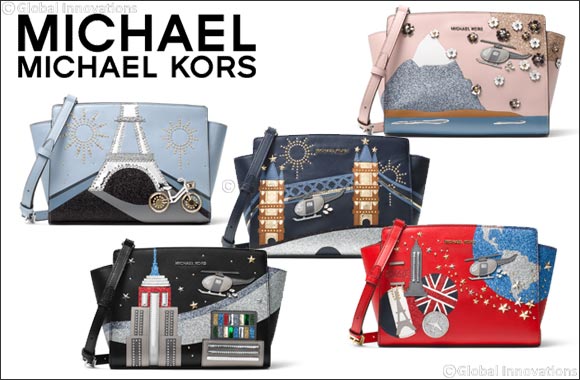 Dubai, UAE, September 19, 2017: Just in time for fall—Michael Kors is pleased to introduce a limited-edition collection of handbags inspired by the global fashion spirit and jet-set lifestyle of Michael Kors. The collection, which consists of five different designs, is based on the brand's iconic Selma handbag. Architectural and unique, the spacious Selma satchel adds edge to every ensemble.
Four of the designs celebrate an extraordinary city—London, Tokyo, Paris and New York—and one global-themed version highlights them all. Each handbag features a bicycle or helicopter capturing the exhilaration of travel while a plaque indicating each handbags' edition number ensures exclusivity.
Luxe design elements include studs, leather appliqué, glitter and metallic, bringing each glamorous location to life. Carry your city-chic bag with you to exciting new destinations or let it be a reminder of all the adventures to come.