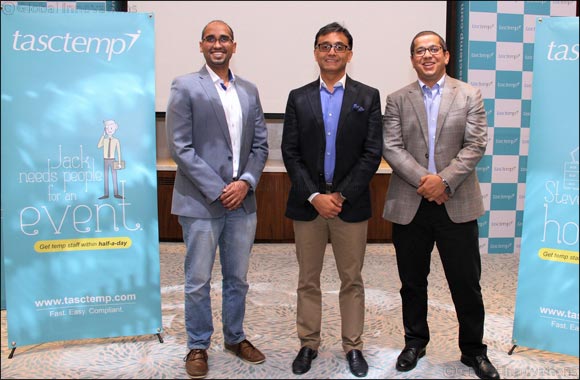 DUBAI – September 18, 2017: Today, TASC Outsourcing, a leading people solutions and talent management company in the GCC, unveiled TascTemp, an innovative online hiring portal which is set to transform the temporary hiring industry in the UAE. TascTemp is the first-of-its-kind solution in the region for temporary staff. This platform is perfect for businesses that need additional staff to meet peak-season demand, or require short-term staff for a crucial project or just to fill-up planned vacancies. Businesses no longer need to worry about last-minute temp staffing; with this service, short-term staff can be placed within as little as half-a-day.
Users can browse through www.tasctemp.com to choose amongst the available pre-screened candidates, who are ready-to-be-employed across sales and administrative functions within the UAE. Each candidate on the portal has a video profile, which can be used to short-listing – thus, eliminating the hassle of scheduling interviews. The selected candidates can be recruited for just a day, or for any duration up to six months. As the candidates' background check and paper-work are complete, the hiring process is really fast. The upfront hiring cost visibility adds to the portal's transparency and ease-of-use.
To access the full features of the portal, users need to register on www.tasctemp.com. Once registered, candidates can be recruited as-and-when desired. Currently, the portal offers two modes of payment – credit card and cheque - with plans in place to introduce a purchase-order linked payment mechanism in the near future.
Commenting on the launch of the service, Mr. Mahesh Shahdadpuri, CEO – TASC Outsourcing, said, "Within the region's staffing industry, we are the first to digitalize the hiring process, and are absolutely elated with the launch. In line with the vision of His Highness Sheikh Mohammed bin Rashid Al Maktoum, Vice President and Prime Minister of the UAE and Ruler of Dubai, we're laying the foundation for innovation and smart transformation within the staffing industry."
"We can now serve our customers better with their urgent and temp staffing needs. In the UAE, temporary hiring is gaining momentum thanks to businesses' need of scaling-up to meet peak season demand without adding long-term fixed costs. TascTemp offers businesses, such as these, the flexibility of hiring additional or replacement staff on-the-go. Recruiting through TascTemp is fast, easy and compliant. We are confident that the hassle-free, and stress-free recruitment experience on this innovative portal will transform the dynamics of temporary hiring within the region," he added.
Speaking of the business opportunity, Mr. Abbas Ali, SVP – TASC Outsourcing, explained, "Over the last few years, we have seen a steady increase in the demand for temporary or short-duration staff. Moreover, such requirements usually come in last minute. Temporary staffing presents a huge business opportunity, especially if we can capture the last-minute staffing need. First - as per our estimate, online temp staffing business opportunity in the UAE is worth US $ 70 million, and is expected to grow as we approach the World Expo 2020. This estimate is currently for the online temporary staffing segment; while the conventional staffing market size would run into billions of dollars."
"Second - retail, tourism, events, etc. together contribute close to 20 per cent of UAE's GDP and these sectors are expected to grow further due to increased investments, and government focus. Growth in these sectors are likely to spur an increase in temporary staffing requirement. Third – there's a shift in the mindset of the millennial generation, who prefer to work across varied roles and as per their convenience. They are less keen to take-up full time jobs," he added.
Talking about the benefits of the portal, Mr. Melvyn Mascarenhas – AVP Retail at TASC Outsourcing, highlighted, "We realized that while there is a definite market need, the effort and time required in recruiting a short-duration temp staff can get quite cumbersome. Through www.tasctemp.com, we aim to offer a fast, easy, and compliant solution to customers wherein they can hire candidates for common roles such as promoters, front-desk executives, customer service agents, data entry operators, document controller, admin assistant, and so on. We already have plans to add few more roles such as Arabic translators, logistics support executives, etc. In the next phase, we will allow candidates to automatically register on the portal."
TASC is a leading talent solutions' firm, offering contract staffing, recruitment, head-hunting, and HR managed solutions to customers across the GCC. In almost a decade, TASC has grown at an unprecedented rate of 200 per cent and received over 17 awards. Very recently, TASC won the prestigious eponymous Sheikh Khalifa Excellence Award for business excellence.