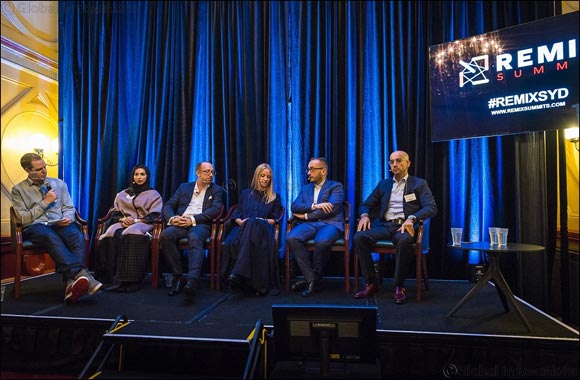 6th edition of 'Dubai Next' to be held in London from 18-20th September as part of the London Design Festival programme
'Dubai Next' 6th edition marks the final of series of extensive programme held in support of the 2017 UK/UAE Year of Creative Collaboration
Programme features the launch of a new 'Islamic Art Economy' book by Dubai culture, as well as workshops, talks and networking events with UK-based cultural figures
Dubai, United Arab Emirates, 17 September 2017: Dubai Culture & Arts Authority (Dubai Culture), the Emirate's dedicated entity for culture, arts and heritage, has announced that the sixth edition of 'Dubai Next' will take place in London in support of the 2017 UK/UAE Year of Creative Collaboration - led by the British Council and as part of the 15th edition of the London Design Festival.
'Dubai Next' will run from the 18th to 20th September and will take place at The Design Museum and Tower House (The Mosaic Rooms), featuring a rich programme of panel discussions, workshops and talks around the launch of Dubai Culture's latest book – 'Global Perspectives on the Islamic Creative Economy'.
In alignment with the 2013 directive issued by His Highness Sheikh Mohammed bin Rashid Al Maktoum, Vice President and Prime Minister of the UAE and Ruler of Dubai, the Authority's new book presents the opinions of experts from the UAE and the region on how to consolidate Dubai's position as an international centre for the Islamic Economy and particularly the Islamic Culture and Art Economy (ICAE).
Saeed Al Nabouda, Acting Director General of Dubai Culture, commented: "Since its launch in 2008, 'Dubai Next' has gained a positive response from the international cultural community, which is a testament to the exceptionally strong reputation that Dubai enjoys on the world's cultural stage. We are pleased to be taking the sixth edition to London as it presents us with an ideal opportunity to share the Emirate's culture and our newly launched book with international audiences, while also empowering local artists, driving our creative economy, and strengthening our ties with the city's Islamic arts and cultural community. All of this fully supports our wise leadership's UAE Soft Power strategy, in which cultural relations plays a central role."
The first day of the 'Dubai Next' programme features a multi-disciplinary panel discussion with experts Salem Al-Qassemi, Wael Al Awar, William Greenwood, and Ahmad Angawi exploring the new faces of Islamic design and architecture in the globalised world of the 21st century. The programme continues with 'An evening of Design & Dialogue', a series of workshops led by Emirati designer and entrepreneur Salem Al-Qassemi, and London-based calligrapher and architect, Taha Al Hiti. 'Dubai Next' concludes with a talk and interactive workshop, hosted in collaboration with Dubai Municipality, which will explore the archaeological findings of "Saruq Al Hadid" from a design perspective to highlight the story of the past and link it with the present and future of design.
Mohammad Al Mansoori, Chief Executive Officer and Head of Dubai Culture's Delegation in London, commented: "We at Dubai Culture are keen to showcase Dubai as a global creative hub and support the Dubai Plan 2021 by further embedding Dubai's credentials as a city of happy, creative and empowered people who proudly celebrate their cultural identities. Therefore, the 'Dubai Next' agenda has been designed to serve as a window onto Dubai's cultural scene, and will capture the great strides that our Emirate has taken in the creative sector."
By launching ongoing global cultural initiatives like 'Dubai Next', Dubai Culture aims to share Dubai's cultural scene with the world and draw attention to the Emirate's rich heritage throughout the year. The Authority's mandate is to build bridges of constructive dialogue between different civilisations and cultures through enriching initiatives that benefit the Emirate's citizens, residents and visitors.