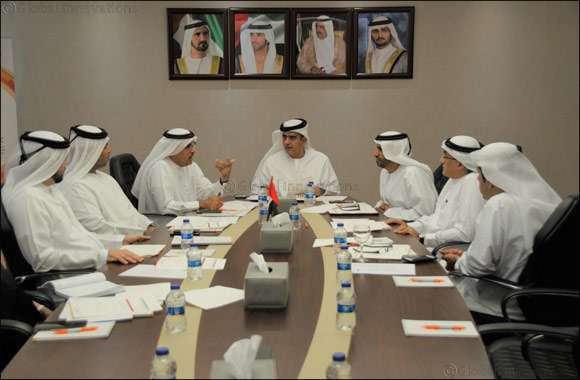 Dubai, United Arab Emirates, 17 September 2017: Dubai Judicial Institute (DJI) has hosted a board meeting at the Maktoum Hall of the Institute under the chairmanship of His Excellency Chancellor Issam Issa Al Humaidan, Attorney General, Chairman of Board of Directors, to mark the start of the new training year.
At the beginning of the meeting, H.E Chancellor Essam Issa Al Humaidan welcomed the attendees and congratulated them on the occasion, wishing success to the members of the Board and to DJI's entire team, from training body members to technical and administrative staff. Following a review of DJI's efforts and the results achieved during the previous training year, as well as an assessment of the performance indicators, Al Humaidan praised the distinguished services provided by the Institute and especially highlighted the strategic partnerships that it has established with legal and judicial institutions at the local, regional and international levels.
DJI hosts dozens of training courses each year, benefiting government officials, community members, lawyers and judges. The Institute provides specialised courses aimed at professionals in the legal sector, including police, prosecutors, judges and lawyers, in addition to programmes designed specifically for members of the military judiciary and the wider community.
The Board also reviewed the latest of DJI's research publications, which have been issued in six specialised series featuring a range of studies and scholarly research into the judiciary, legislation and laws of the UAE, accompanied by a series of pocketbooks covering the legal principles of the Supreme Court in the state.
The meeting was also attended by H.E. Taresh Eid AL Mansouri, Director General of Dubai Courts and Vice Chairman of the Board; H.E. Dr. Loay Behloul, Director General of Legal Affairs Department and Board Member; H.E. Dr. Jamal Al Sumaiti, Director General of DJI; H.E Ahmed Bin Humaidan, Deputy Director-General of H.H. Dubai Ruler's Court; H.E Major General Dr. Ahmad Eid Al Mansoori, General Director of Forensic Science and Criminology Department at Dubai Police; and Mr. Abdel Moneim Swaidan, Attorney, Board of Directors.