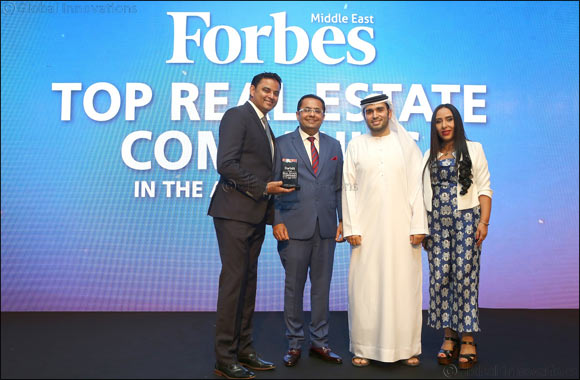 Danube properties wins two coveted awards at Forbes Middle East Award ceremony and Gulf Business Award ceremony simultaneously
16th September, 2017; Dubai, UAE: It's yet another outstanding achievement by Danube Properties, the leading Property Developer in the region delivering affordable and sustainable development with high standards of construction. The realty division bags two prestigious awards: Top Real Estate Company in the Arab world by Forbes Middle East on 9th of September at Waldorf Astoria Dubai Palm Jumeirah and Best Real Estate Company in the Arab World by The Gulf Business Awards on 10th of September at Fairmont the Palm Hotel in Dubai.
On receiving the award, MR. RIZWAN SAJAN, Founder & Chairman – Danube group said, "Winning two awards concurrently on the prestigious forums of Forbes Middle East and Gulf Business is indeed a huge achievement and I am grateful and humbled for this honour. Honestly, the reason for our roaring success is the three vital ingredients which each and every staff of our company follows and promotes which are: quality, value for money and hard work.

He further added: "I would personally like to thank my staff for their continuous tremendous support and we believe it is our responsibility to contribute towards further uplifting of the sector in the country". The achievements not only showcase the reputation and leading position of Danube in the property market; but also showcase the credibility people hold in us. Additionally, I would also like to thank the UAE rulers and the UAE government for their unstinting support".
Mr. Atif Rahman, Director and Partner, Danube Properties said, "It is no mean feat to bag two prestigious awards in 2 nights. This was possible through remarkable support we receive from all the customers, contractors, consultants, brokers, suppliers and the government agencies. I am blessed to have the finest employees with immense commitment to execute the company's plan and deliver. I have always believed that as a builder we need to remain focused on two things "what we deliver" and "when we deliver" with detailed attention on the process rather than the result. I can assure you that as a builder Danube goes beyond the topline or the bottom-line and is driven by consumer satisfaction. As I always say we are people's company and its time to thank everyone for their incredible support without which we will not be where we are."
The organisation has found a firm footing among the leading real estate players of the UAE and has been honoured with numerous awards and accolades at national, regional and international level for the leadership, innovation, excellence in the sector.
Forbes Middle East Awards welcomed representative from the regions leading real estate companies and awarded the top 100 real estate companies in the Arab World.
The Gulf Business Awards covers a wide spectrum of economic sectors, from energy to real estate. Each year, the Awards celebrate regional titans of industry, government officials, small and medium-sized enterprises as well as entrepreneurs.