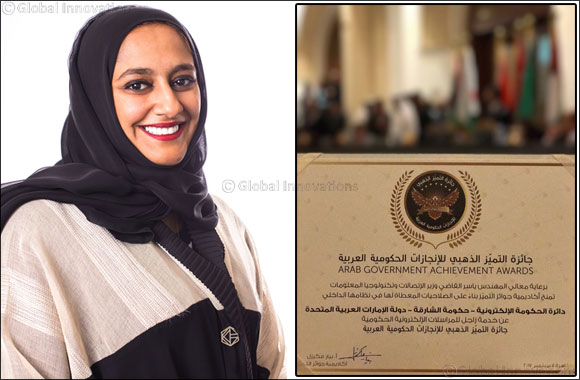 Accolade follows implementation of Zajel system to government correspondence
Sharjah,16 September 2017: Sharjah Department of eGovernment (DeG) is celebrating winning a major government award for the quality of its services. The department - which works to enhance connectivity in Sharjah and to create preparations for a transition to a digitaly integrated society - was given the 'Excellence Award' for Arab Government Achievement' for its successful efforts in implementing the 'Zajel' electronic correspondence across government departments in the emirate.
Noor Al Noman, Director of DeG, received the award at a high level ceremony held at the InterContinental Citystars Cairo Hotel, under the patronage of Eng. Yasser Al Qadi, Minister of Communications and Technology in the Arab Republic of Egypt. During the citation, it was announced that DeG implementation and integration of the Zajel service across numerous govermenet departements in Sharjah had surpassed all criteria of the award through its many advantages, including digital interactivity, sustainability and safety.
'Our securing of this prestigious award reaffirms the great standing of Sharjah and its government institutions. It demonstrates the recognition and appreciation of our achievements, which are a direct result of the wise guidance and vision of His Highness Sheikh Dr. Sultan bin Muhammad Al Qasimi, Member of the Supreme Council Ruler of Sharjah,' said Noor Al Noman.
'At DeG we are constantly developing our services in order to attain the highest standards of quality, with our efforts being fueled by innovation, creativity and passion. Our mission is to facilitate the comprehensive digital renaissance in Sharjah, which will lead to the improvement of the standard of living of all of the emirate's citizens and residents," she added.
Zajel is a bilingual (Arabic-English) service communication concurrence that connects government departments and agencies in the Emirate of Sharjah and enables the automation of government correspondence. It facilitates their tracking and monitoring in a safe and efficient manner, ensuring reliability through the use of electronic credits. It transfers the correspondence through secure electronic channels that follow the highest standards of protection and encryption from the point of transmission to the point of access.
DeG has presented a number of workshops and training sessions that have established the importance of applying Zajil to government departments in the Emirate of Sharjah. The tutorials show how the service completely eliminates the use of paper and therefore supports Sharjah's ambitions to reduce emissions, enhance sustainability and protect the environment.
DeG aims to contribute to building a knowledge-based society by strengthening the government sector in e-transformation, providing smart and innovative electronic services based on the best international standards. The department aims to support economic and social development in the emirate and works within the framework of the state's sustainable development plans. DeG cooperates with government agencies to achieve the principles of transparency and governance as criteria for upgrading its institutional functions through the use of modern technologies and by triangulating the three elements of data, communications and multimedia.