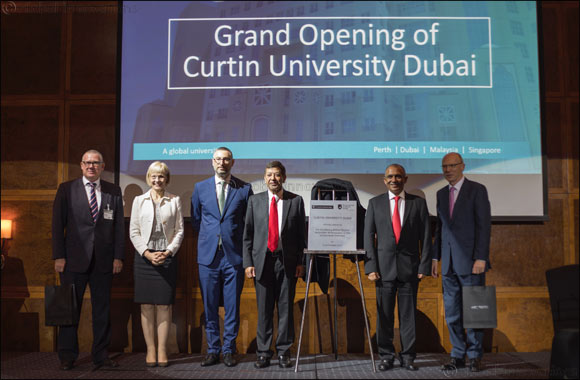 The ARWU top one per cent ranked Australian university will offer a range of undergraduate and postgraduate programs from January 2018
Dubai, UAE, September 13, 2017: Curtin University, a leading global university from Perth, Western Australia, has opened its new campus in the Middle East. The campus at Dubai International Academic City will initially offer a range of undergraduate and postgraduate programs in business, science, humanities and communications.
The grand opening was celebrated at the Godolphin Ballroom of Jumeirah Emirates Towers in partnership with Transnational Academic Group Middle East (TAG-ME), Curtin's Education Management Services Provider in Dubai.
His Excellency Arthur Spyrou, Australian Ambassador to the UAE officially opened the campus and was the keynote speaker for the evening. Also in attendance were Dubai Knowledge Human Development Authority (KHDA), Chief of Strategy and Excellence Dr Wafi Dawood, Dubai International Academic City Managing Director Mohammad Abdullah, Curtin University's Chancellor Colin Beckett, Vice-Chancellor Professor Deborah Terry, Deputy Vice-Chancellor International Professor Seth Kunin, and Transnational Academic Group Founders Zafar Siddiqi and Dr Rakesh Wahi and Middle East Chief Executive Officer Daniel Adkins.
His Excellency Arthur Spyrou, Australian Ambassador to the UAE, said, "The opening of Curtin University's Dubai campus demonstrates the strength and the international value of Australian universities in this part of the world. The UAE is an important education partner for Australia and I am delighted that Curtin University, recently ranked as one of the top one percent of universities worldwide, will join our other leading Australian universities in showcasing high quality Australian research, knowledge, and teaching through a permanent presence in the UAE. This underscores the commitment of Australian institutions to the UAE market and Australia's commitment to expanding bilateral education cooperation with the UAE."
Professor Deborah Terry, Vice-Chancellor of Curtin University said, "We are delighted to establish our new campus in Dubai and bring our world-class research and collaborative learning methods to students in the UAE and beyond. Curtin University is placed in the top one per cent of universities worldwide and this incredible achievement is evidence that our drive for excellence in research is having a significant impact on our global reputation. The campus in Dubai strengthens Curtin's standing as a global university and a recognised international leader in research and education."
Dr Rakesh Wahi, Co-Founder, Transnational Academic Group said, "Transnational Academic Group has completed ten years providing high quality tertiary education by bringing world-class universities to the Middle East and Africa. The opening of the prestigious Curtin University campus in the UAE is part of our continued effort to provide opportunities for students to study at well-established globally-renowned universities."
Curtin University is also celebrating '50 Years of Innovation' this year and has climbed into the world's top 200 universities in the prestigious Academic Ranking of World Universities (ARWU), estimated to be ranked 180th in the world and 9th in Australia. The University is globally known for its high-impact research and strong industry partnerships.
Daniel Adkins, Chief Executive Officer, TAG-ME said: "We are pleased to partner with Curtin to bring world-leading educational programs to students in the Middle East. Curtin will also be establishing a research and innovation hub in Dubai to partner with UAE businesses and the Government to develop innovative solutions and collaborate in areas of strategic interest."
Curtin University will especially look at addressing the Government's priorities for economic development and meeting the country's skills gaps in the years to come.