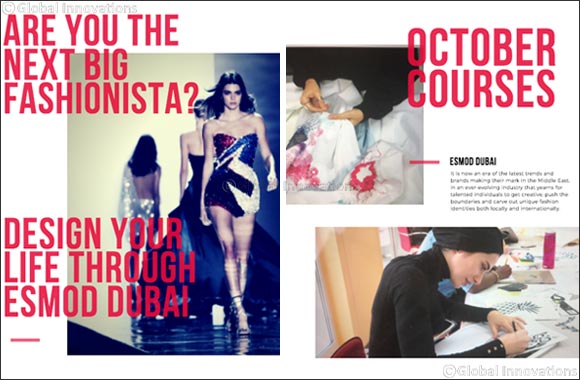 Forge an exciting international career in fashion with the region's leading fashion institute.
Dubai, UAE, September 12, 2017: It has been more than ten years since the ESMOD Dubai was first established in the Middle East, and since then the region's fashion industry has drastically, matured and flourished. It is now an era of the latest trends and brands making their mark in the Middle East, in an ever-evolving industry that yearns for talented individuals to get creative, push the boundaries and carve out unique fashion identities both locally and internationally. For those armed with the potential and determination to take the next step, ESMOD Dubai, the French Fashion Institute, offers a host of courses commencing in October 2017 to help dreams be realised.
IFASH ABAYA DESIGN
Start Date: 1oth October 2017
Duration: 2 Months
Attendance: Sunday to Thursday
Time: 9.30am - 12:30pm
Fashion is a continuing process of creative expression through various stimuli and references, coming from many different fields such as history, art, design and architecture to name a few. Fashion has always been a reflection of social, economic, political and cultural changes, women spontaneously react to new trends, absorbing it into their personal style. This is how iFash and modest wear such as abayas have become synonymous with everyday life within the Middle East, emerging as a global fascination via the mix of western influences with stylish ethnicity. Over time abaya styles have evolved from a simple black attire used to cover the body to an elegant looking garment expressing a strong fashion statement. This creative fusion has become a norm that ESMOD Dubai supports with pleasure.
FASHION MARKETING
Start Date: 1st October 2017
Duration: 6 Months
Attendance: Sunday to Tuesday
Time: 9:30am - 1:30pm
With immense competition and numerous emerging fashion brands, it is crucial to know the right recipe of launching a new brand. This program will enlighten you with step by step SWOT analysis, planning, implementation, execution and launch plan evaluation of your fashion business. Fashion entrepreneurs will enjoy this dynamic course, learning about modern marketing techniques delivered by top professional experts in the field and start their fashion business.
This program is structured in complementary modules providing the deepening of different actions of fashion marketing, from the analysis of the fashion system to the study of marketing, communication techniques, from the detailed analysis of the different aspects of brand management and merchandising.