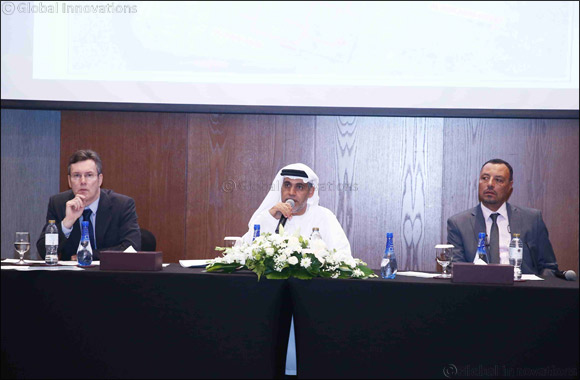 Nearly 600 plots in Al Maarid to be added to the existing network
AED65million Al Feliyah Wastewater Treatment plant nears completion
Ras Al Khaimah, 11 Sept 2017: Ras Al Khaimah Waste Water Agency (RAKWA) has announced a project to connect residences and businesses in the Al Maarid area to the sewerage network as part of its ongoing programme to expand the wastewater infrastructure in the Emirate. 565 plots are due to be connected to the local wastewater grid between now and June 2018.
When the project is complete residents will no longer have to operate their own septic tanks or put up with the odours that are associated with their regular emptying. Septic tanks can also become hazardous during the rains when there is a danger of overflow and health risks can increase, and are attractive to flies and insects. A significant side benefit to this will also be a reduction in the tanker traffic on local roads.
Commenting on RAKWA progress and success in recent times, Engineer Ahmed Al Hammadi, Director General of the Ras Al Khaimah Services Department, said, "Under the guidance and in line with the vision HH Sheikh Saud Bin Saqr Al Qasimi, UAE Supreme Council Member and Ruler of Ras Al Khaimah. We have taken great steps in the last couple of years with regards to wastewater services in Ras Al Khaimah. Four significant projects have either been completed or are underway, and they all directly improve people's quality of life in the Emirate. We appreciate and need their support as we constantly upgrade and develop the public services that are our responsibility."
RAKWA is asking the local residents for their support during the initial stages of the project as their network connections are currently inside the property and need to be surveyed by the agency's experts, a process that should take no more than an hour. During 2018 RAKWA will need to further access properties to make the network connection and decommission or remove the septic tank a process that will take up to one week. RAKWA has also committed to bear the expense of decommissioning and removal of the septic tanks and making good any disturbance caused by associated work. The network connections will also be re-sited outside properties.
The Al Maarid project is feasible because other aligned projects are also underway, such as the construction of the new Al Feliyah Treatment Plant, a AED65 million project which boosts the capability of the Emirate's sewerage network. Al Feliyah will come on stream in November this year, and will double wastewater treatment capacity from 20,000 to 40,000 cubic metres a day, which equates to 16 Olympic swimming pools in volume (9,000 gallons). Al Feliyah has been designed to cope with the treatment needs of 200,000 people – nearly 60% of the population. Despite its size, odour will not be an issue with Al Feliyah, which has special odour control units to ensure that no smell will be detectable beyond the plant's boundaries.
Alan Turner, Executive Director of RAKWA, commented, "These new projects are very important to our strategy to expand the wastewater infrastructure and to enhance the overall development of the emirate of Ras Al Khaimah."