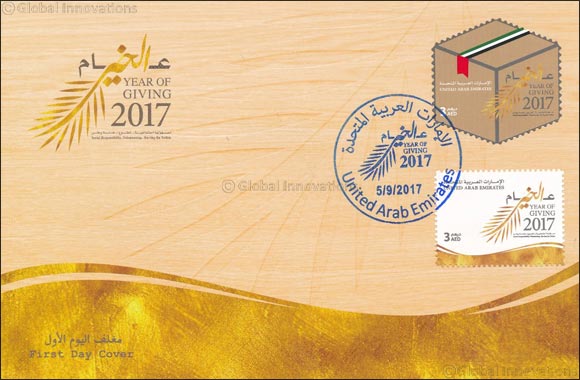 Dubai, UAE, September 11, 2017: In connection with the declaration of His Highness Sheikh Khalifa Bin Zayed Al Nahyan, UAE President, that 2017 is the "Year of Giving", His Highness Sheikh Mohammed Bin Rashid Al Maktoum, Vice President and Prime Minister of UAE and Ruler of Dubai, has directed to develop a comprehensive work frame to activate 'Year of Giving 2017' by consolidating the culture of giving and charitable and humanitarian work in UAE.
In cooperation with the Ministry of Cabinet Affairs and Future and as a part of the initiative of 'Good Post', UAE Post Group issues memorial stamps of 'Year of Giving'.
The issuance of such stamps reflects the culture of charity and giving on which UAE's vision is based. This vision implies that culture should depend on the state's Islamic and Arab identity as established by UAE founder/ late, Sheikh Zayed bin Sultan Al Nahyan.
Acting CEO of Emirates Post Group, Abdullah Mohammed Al Ashram, said that ' Year of Giving' stamps were issued as in order to document the humanitarian initiative on the ground that post stamps are deemed as a means of media and cultural communication, reaching various countries and peoples of the world, giving it a wide spread and historic message transmitted by peoples and civilizations.
Ashram also explained that this special issue of stamps came in two different designs to participate in the initiatives of Year of Giving 2017: the first design carries the official logo of Year of Giving 2017, and the second design comes in the form of a donation fund to encourage the community to contribute and give.