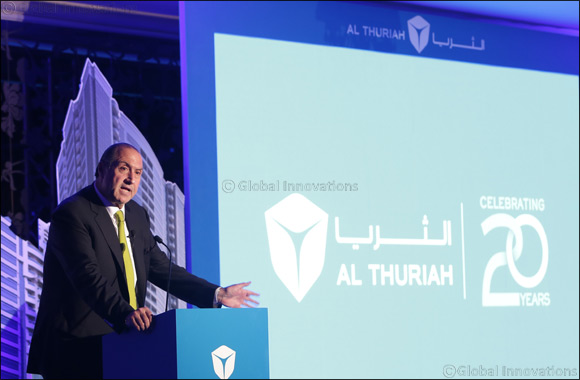 Select three-bedroom units in landmark high-rise complex will cost AED1 million for limited three-day period
Promotion comes following Cityscape Global's decision to allow direct buying for the first time in event's history
Sharjah, 10th September 2017: Al Thuriah Properties, the UAE's premier property developer that specializes in high-rise residential towers and communities, today announced it is launching a special promotion at Cityscape Global 2017 on a limited range of apartments at Sahara Tower 6.
The promotion is on 33 three-bedroom apartments – each of which will be discounted by AED333,000 to cost buyers AED1 million per apartment – and is valid during Cityscape only. The unit price will return to the price as displayed in the Al Thuriah Properties sales office following the event.
Offering world-class amenities at affordable and attractive prices, each unit in the high-rise complex comes with two free parking spaces, with floor space starting at 2,240sqft. The promotion allows buyers to purchase an apartment and pay for it in 10 instalments across 30 months.
The promotion comes after Cityscape Gobal announced that, for the first time in Cityscape's history, event attendees can now buy directly from exhibitors in accordance with the rules and regulations of the local authorities in which the developer operates.
Raymond Khouzami, CEO of Al Thuriah said: "The construction of Sahara Tower 6, the last jewel in the crown of the Sahara Complex, is in line with the schedule of this pioneering real estate project near the main entrance to Sharjah. Cityscape has always been a unique opportunity for real estate developers who are implementing projects in the UAE to meet with the clients and investors to discover and explore the latest projects in the UAE's property sector. For the first time at Cityscape, developers can sell directly to customers. From this perspective, we believe that the launch of this initiative, which is aimed at our customers looking for luxury apartments at good prices, is perfectly timed."
Sahara Tower 6 includes 376 apartments spread across two towers, 21 storeys and 39 storeys respectively. All apartments are available for freehold ownership and comply with the laws and regulations in the emirate of Sharjah.
"The offer period is very limited," added Carlo Eid, Marketing Director, Al Thuriah. "It will be for the duration of Cityscape only. For those units that do not sell at Cityscape, the price will return to the full price as listed at Al Thuriah's sales offices. To date, the sale of Sahara Tower 6 has exceeded our expectations. We are developing projects in strategic locations to the highest specifications and we expect this promotion to continue to exceed our, and our customers, expectations.
"We have huge resources and a team of experts with a rich history of achievements in high-quality real estate development using only the best materials and equipment to deliver world-class high-rise residential towers."
The completion of Sahara Tower 6 is scheduled for December 2019.