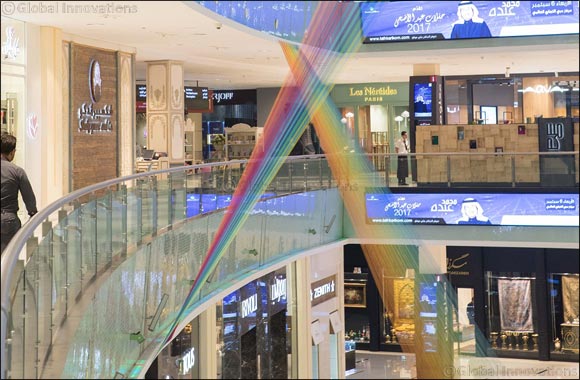 Dubai, UAE, September 6, 2017: The Dubai Mall is now home to an incredible art installation, by Mexican artist, Gabriel Dawe.
Centred around the exploration of textiles, Dawe's 'Plexus' installation at The Dubai Mall considers the correlation between fashion and architecture, through exploring the diversity of sewing thread as a medium for his works.
Constructed entirely from coloured thread, the installation is a representation of combining two forms of shelter which humankind requires, the need for clothing and a physical home, to create a delicate and thought-provoking display.
Individually, the fine strands of thread would be difficult to see, but strung from floor to rooftop as a collective, they create a dynamic and kaleidoscopic work of art, offering passersby a full sensorial experience – akin to a rainbow.
This edition of 'Plexus' has been specifically crafted for display within The Dubai Mall and is currently on display outside Galeries Lafayette. Stretching from floor to ceiling, the installation can be enjoyed across all three levels, with views from ground floor looking up, and from the balconies above.
The Dubai Mall joins a growing list of esteemed locations where 'Plexus' creations have been displayed, including across the US, Canada and Europe.
What: 'Plexus' art installation at The Dubai Mall
Where: Outside Galeries Lafayette
Price: Free for all to enjoy