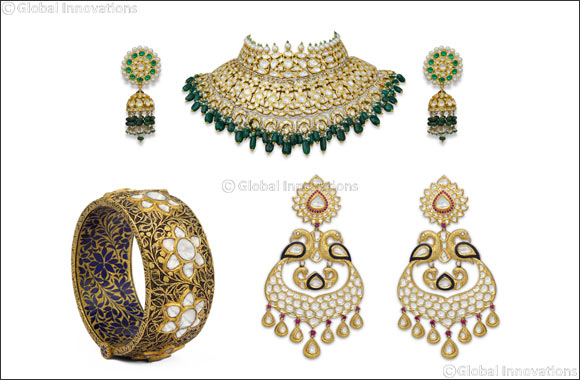 The exclusive collection features a classic blend of the new and the old, with designs seeped in the ethereal Mughal era
September 6, 2017, Dubai, UAE: Harking back to the Mughal era, Jaipur's Bhuramal Rajmal Surana and Dubai's Mikura Pearls, bring to you an exquisite collection of handcrafted uncut diamonds and Mughal enameled jewellery. The 'Jadaau Jewellery Show' – slated from Saturday, September 9th to Monday, September 11th – will sparkle with collectibles reflecting the splendour, immortal aesthetics and unique workmanship from the historic plains of India. The exhibition will be held at at DMCC, Almas Tower, 45th Floor, Jumeirah Lake Towers, and will be open to public from 9:30am to 7:30pm on all three days.
The exclusive collection features gemstones, pearls, enameled kundan and glittering polki (uncut diamonds) set in delicate designs, with a detailed eye for intricate artwork. A beautiful marriage of modern and the traditional, the jewellery at the exhibition – now in its 14th year – mirrors the love and finnesse that has gone into creating this unique blend, that reflects in every piece, be it a polki-encrusted bracelet, a pearl-studded jhumka, or a combination of both in a necklace.
With a legacy rooted in the city of Jaipur and a storied history spanning nearly three centuries, Surana, has earned the patronage of royal families. The jewellery house's collections have been adorned by Jackie Kennedy, Princess Diana, Tina Ambani, Laxmi Mittal, Kumar Manglam Birla , in addition to a number of international celebrities.